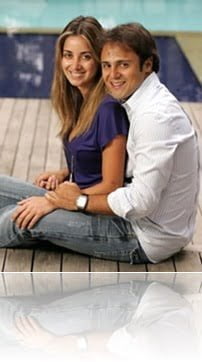 Brazilian Formula One driver Felipe Massa with his longtime team Ferrari competed at the Australian Grand Prix, his pretty wife Raffaela Bassi as usual is his most loyal fan!
31-year-old Felipe Massa born in Sao Paulo, Brazil began his life in the fast lane with karting at the early age of 8, his first Formula One team came in 2002, the Sauber Team with whom he stayed until 2005, the following year he joined Ferrari, his team until this day.
Massa was involved in a terrible car accident in 2009 during the Hungarian Grand Prix, Massa was struck on the helmet by a suspension spring that had fallen from Rubens Barrichello's Brawn, on a high-speed part of the track. He subsequently crashed head-on into a tyre barrier, he was airlifted to the hospital where doctors said he was in critical but stable condition, he suffered damage to his left eye, brain concussion, fortunately he has a miraculously recovery.
When he is not behind the wheel he is at home with his beautiful family, his wife is Anna Raffaela Bassi mother of the couple's adorable son.
34-year-old Anna Raffaela Bassi aka Raffaela Massa was born in Brazil in 1978, she met her hubby at a club in 2002, Massa's friend was dating a girl who was friends with Raffaella and she introduced them.
They got married five years later in their natal Sao Paulo, Brazil where among their families and friends they celebrated their union o November 30, 2007. Raffaela found out she was expecting the following year, little Felipinho Bassi Massa was born on the same day of  Felipe and Raffaela's second wedding anniversary, Nov. 30th 2009.