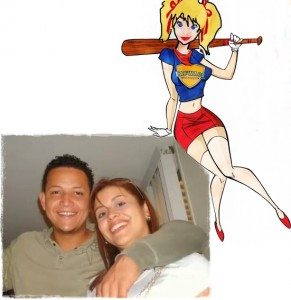 Do you know who is the wife Miguel Cabrera the Venezuelan professional baseball third baseman with the Detroit Tigers? Miggy is happily married with his childhood sweetheart and mother of his three gorgeous children, and the name of this amazing MLB WAG is Rosangel Polanco Cabrera also known as Rosangel Cabrera.
If you want to know more about Miguel, Rosangel and their family read her biography don't miss her photos and video after the jump..
We already know about the arguments among Miguel Cabrera and his wife Rosangel Cabrera. All the time he comes home drunk (blood alcohol level 0.26, more than three times the legal limit…), Rosangel gets upset cuz she is sleeping and their son too so he comes and disrupts there sweet dreams. Once there were even facial lacerations and abrasions on Miguel.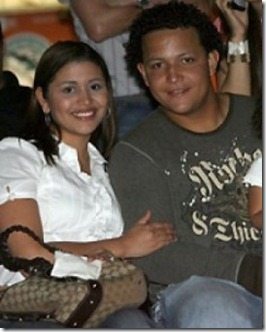 Rosangel once called the cops, and Miguel was taken into detention. There is even a 911 call…
Miggy Cabrera's wife Rosangel has been by his side since high school. The pair began dating them, and was married near the beginning in his profession. The two tied the knots on June 17, 2002 in a civil ceremony while Miggy was rising throughout the Marlins minor league system.
She was  born Rosangel Polanco Cabrera 31 years ago, she gave birth to her eldest child in 2006, a daughter they named her Rosangel like her beautiful momma.
The two know each other since Rosangel was 13 years old. They loved to go to see romantic movies in her homeland: Venezuela.
He recalls:
Love movies. It starts when I met my girlfriend in Venezuela.
After 6 years of relationship he couldn't stand but return to Venezuela just for her.
He remembers:
Because we were so young, her family doesn't like it. But we said, This is what we want.
Once they came back to America, he adds regarding movie time…
and when we return to U.S., we go to any movie. And we buy some movies. Translation of "some": 1,000 DVDs.
Cabrera loves comedies. Rosangel prefers scary movies.
He said:

I get bad dreams. Like, Se7en — o'my god, that's scary.
The Cabreras have three kids:  the youngest Christopher, 1 was born in August, 2011; Isabella, 2 born in Miami; and Rosangel, 7, whom everyone calls Brisel.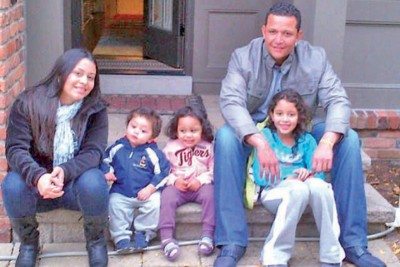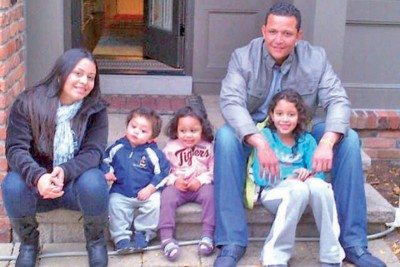 He says:
When Brisel was born, I was 22. I was excited to play with her.