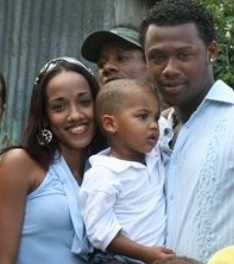 Sanoe or Elisabeth Ramirez is or was married to Hanley Ramirez, player for the L. A. Dodgers. She was also born in the Domincan Republic, in the same neighborhood as Hanley.
Together they have three sons, Hanley Ramirez Jr. born November 15, 2004, Hansel born on September 12, 2007 and Ricardo born in June of 2008.
Not much more is known about this woman, and very few pictures have surfaced of her. We do know that Hanley likes the night life, and that he's been seen living it up with various different women. But nothing more than that as far as we know. As of 2009 they were still married, and no reports indicate that the status has changed. There's not much news about Elisabeth or Sanoe since then, so who knows.