Meet Sarah Klosowski
Sarah Klosowski is the girlfriend of pro skater ad filmmaker Erik Bragg.Sarah Klosowski must be stoked for her man who recently became one of the Powerball winners!
ERIK BRAGG CA SKATER POWERBALL WINNER
Erik Bragg or Erik Braggadocio, posted a photo to his social media profile and claimed to be one of the lucky lottery winners. Users online, quickly jumped to conclusions saying Sarah's man was making the whole thing up and labeling him a fake winner.
Erik does happen to have good Photoshop skills, he is the personal filmer of Ryan Sheckler and was the man behind the much anticipated Plan B "True" Video –which took three years in the making.
Erik is also in a cover band that's opened for Lil Wayne at Redbull-sponsored events, he's a brand ambassador for Grey Goose vodka and has been featured in Vanity Fair.
The Power Ball tickets were sold in three states, California, Florida and Tennessee. Exact locations however, were not given as well as none of the winners have been officially identified.
While nothing is confirmed yet, Sarah's guy took to Instagram to claim that he had won the prize. The numbers match and he most certainly looks excited enough.
Sarah's man caused much speculation with the image of his alleged win. There are three lucky mortals who will share the record-breaking $1.5 million Powerball jackpot.
But according to The Observer, Erik's ticket was digitally altered to display the winning numbers. Does the image looks 'funny' to you?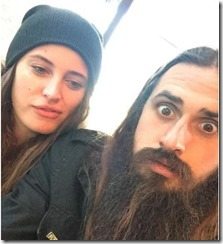 According to online info, 27-year-old Sarah Klosowski is originally from Chino Hills, CA. just like her man. It is not exactly clear if the two are actually dating each other but judging by her social media snaps, she and Erik are at least really, really close friends. Not much more info is available on Sarah Klosowski, but if someone knows if Erik Bragg is really the winner or not, should the Sarah, don't you think?
Wouldn't you like to be Sarah Klosowski? What would you do if your boyfriend became a lottery winner?
You can find Sarah Klosowski on Instagram here.