Suzy Miller
In the film Rush, we saw the story of  racer James Hunt's rivalry with Austrian Nikki Lauda, we want to tell you about the women in his life. His name, a name that transcends the sport that made him a global superstar and gave him pop idol status.
James Simon Wallis Hunt was married twice. The British who died in 1993 at the age of 45 was first married to model, Suzy Miller.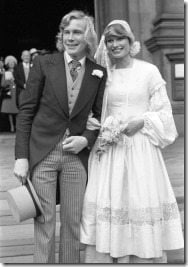 The couple met in Spain in 1974 and a few months later they were hitched! The couple married on 18 October 1974 at the Brompton Oratory in Kensington but by the end of 1975, Suzy had left Hunt for the actor Richard Burton. Suzy and Burton's short-lived marriage started in 1976 and ended in 1982.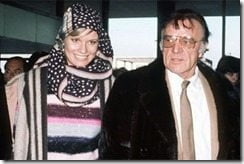 Suzy Miller was a model and fashionable formula girl.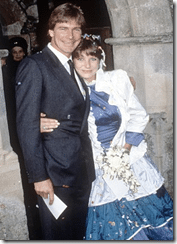 Sarah Lomax
Hunt then moved on to wife number two. Sarah Lomax  got married to James on December 17, 1983 in Marlborough, Wiltshire. The couple had two children Tom now 27, and Freddie Hunt, 25.
Sarah met racing hero Hunt on a beach in Spain in 1982, they dated throughout that winter and moved back to the UK where they married. The couple divorced after six years following Hunt's infidelities, they had a bitter divorce.
Subsequently,  Sarah married army officer, Chris Jeffery, and had son Charlie, now 14. Sadly her second husband also lost his life in a sudden way, Chris collapsed with a stroke while on leave on the day they were to baptize their nine-month old son.
Lomax is unfortunately suffering from breast cancer and is currently undergoing her third round of chemotherapy. The 54-year-old been through difficult times, she is now facing another blow in her life with her battle with cancer although this time, she has the support of her kids.
Tom her oldest who is 27-years-old says about her mother:
"She's an unbelievably amazing woman with everything she's been through. She's remarkable. She just keeps carrying on"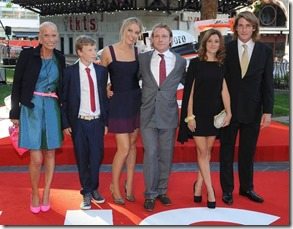 You can see all three of her sons' in the picture above, accompanied by their girlfriends.
You can follow the late champ on the twitter account ran by his son Tom here.