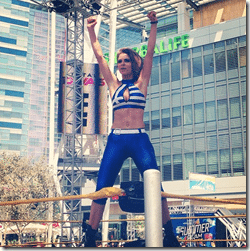 Fans of Maria Menounos? Then you must have seen her rocking on Sunday at the WWE Summer Slam pre-show bout in La. La land.
You definitely do not want to mess with this beauty turned wrestler machine diva! Maria who is a T.V personality, actress, host, and journalist knows exactly how to kick some action at the ring so you don't want to mess with the former Miss Teen Massachusetts 1996 turned wrestler!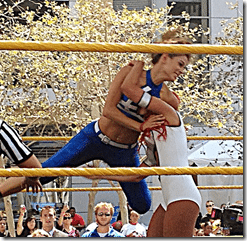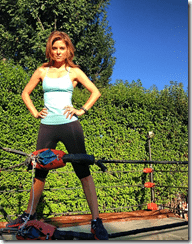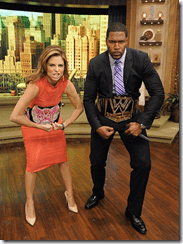 When she is up there, forget about the glamour, the sleek and nice outfits and dresses, the high heels, the hair and makeup because when Maria means business she will give you her best and no girly casino online girls are allowed! The 35-year-old teamed up with WWE star Natalya to take down Brie Bella of the Bella Twins and Eva Marie for the SummerSlam Axxess match outside the Staples Center in Los Angeles.
That being said Menounos brings all the sexiness into the sport; suited in a different kind of attire she looks super with her tight blue spandex number letting everyone see her ripped abs and her exceptional physical condition. Armed with her best moves, poker face, battle suit and amped attitude she is ready to let anyone have it!
Menounos has made several appearances with WWE and is a lifelong fan of the organization. She made her in-ring debut in 2009 when she teamed with Kelly Kelly and Gail Kim to defeat Beth Phoenix, Rosa Mendes and Alicia Fox. In 2011, she teamed with Eve Torres, Kelly and Fox to defeat the team of The Bella Twins, Natalya and Phoenix. Her most recent event was teaming with Kelly to defeat Phoenix and Torres at Wrestlemania XXVIII in 2012.
The sports entertainer and Extra hos is still undefeated! Don't miss the video and pictures below to see Maria in some crazy positions and watch her dominate!
You cand follow her on twitter here and instagram here.