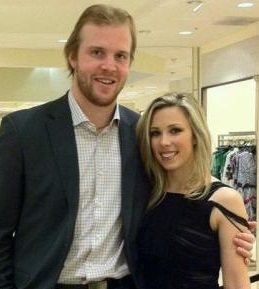 From Chicago Illinois Amanda Lee Caskenette is a huge pit-bull lover and also a huge pro hockey lover specially when it comes to her man, Chicago Blackhawks Bryan Bickell, 27! I absolutely love the couple and you will too! They haven't tied the knot just yet but it's as if they were already!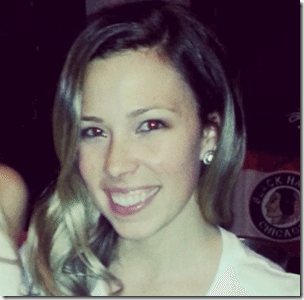 The beautiful bride to be even has a blog to keep everyone up to date with the details to her dream day that will be on August 3, 2013! The couple splits their time between the U.S and Canada and so they got to have not one but two engagement parties! They've been engage for over a year but you know a girl just needs to have everything done to perfection when it comes to that special day!
Amanda says on her twitter she is a professional packer, unpacker and that the blond beauty spends most of her time volunteering! She is passionate about dogs, specially about pit bulls! She is a major pit bull advocate , so much that she is the founder of Chicago Loves Pits.org! This passion is something the couple shares so the two teamed up and it was founded by Bryan's fiancée Amanda Caskenette, and animal advocate Alicia Boemi.
Chicago Loves Pits is dedicated to promoting awareness, starting conversations, sharing the truth, and opening minds and hearts to encourage rescue and adoption of Pit Bull type dogs. With the help of Adopt-a-Pet.com, Chicago Loves Pits was an idea that turned into a reality. In 2012 Chicago Loves Pits launched its first campaign featuring two billboards located in prominent areas of Chicago that bore the headline: Bryan Bickell is the only fighter in this family. From there, Chicago Loves Pits has grown into a registered non-profit organization.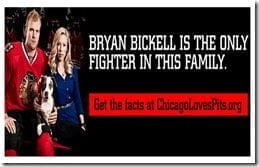 Amanda and her boyfriend sure like to keep things between them since in 2011 the couple started "The Bryan Bickell Charity Classic Golf tournament" The goal of this event is to help create awareness and raise funds for various charities and causes within the local community.
The couple is sure having a sweet year! With a wedding coming up soon and now having won the Stanley Cup and have his name in eternal glory, I mean what else could they ask right! So major congrats to both!
You can follow Amanda on twitter here.