Daniella Rodriguez
Meet the lovely Daniella Rodriguez; she is Miss Texas 2016, a beautiful young woman; but most importantly, Daniella is the wife of Puerto Rican MLB player Carlos Correa, the 6'4" shortstop for the Minnesota Twins; Correa previously played for the Houston Astros.
Where is Carlos Correa From?
MLB shortstop Carlos Correa is from Ponce, Puerto Rico, one of the most populated cities in Puerto Rico located on the southern coast of the island. Correo grew up in Santa Isabel's fishing village Barrio Velazquez; his house was badly damaged in 1998 when Hurricane Georges struck took 604 lives and damaged mostly Puerto Rico, Hispaniola, St. Kitts, and Nevis.
Carlos Correa Family
Carlos Correa is one of the children born to Sandybel Oppenheimer and Carlos Correa Sr. who was the first to train a five-year-old Carlos during his free time, he loved the game but he had a family to support, he worked in construction and fishing, his wife worked hard too from the local supermarket to the water bottling companyand even cooked food.
Carlos has two siblings, brother J.C Correa, and sister Leibysand Kamil Correa born on August 13, 2009.
His brother J.C born Jean Carlos Correa born on September 15, 1998, in Ponce, Puerto Rico attended Lamar University and Alvin Community College; like his famous brothers plays shortstop. On June 19, 2020, The Houston Astros signed J.C. as an undrafted free agent, but they had drafted J.C. twice before that. The first time was in the 33rd round in 2018 and then again in the 38th round during the 2019 MLB draft.
"It means the world for me," he told MLB.com. "I've been wanting to sign for two years now. I've been drafted twice [by the Astros]. I have some goals, you know. I wanted to get my degree and now that I got my degree, I will sign and play professional baseball. That is my other goal, to make it to the big leagues. I'll work harder than I have worked my whole life to make it there. But for me it means to the world to be signing professional."
Carlos Correa MLB Career
Carlos Correa started playing baseball when he was a little boy in a little league team in Santa Isabel called Pampers League; later on, Correa joined Playita Cortada American Baseball Congress affiliate, followed by a stint with Rio Grande, where he played pitcher and was named the team's MVP.
He played with the PuertoRico Baseball Academy & High School as a scholarship student after Carlos and his family moved to Barrio Velázquez. Correa transitioned to the bat after his coaches noticed his talent and discipline. In 2012 Carlos signed a letter of commitment with the University of Miami.
Carlos Correa was the youngest high-profile player to be drafted during the 2012 MLB draft, at the age of 17, the Houston Astros selected him first overall.
Carlos signed his first contract with Houston in June 2012.
He was assigned to their affiliate team the Gulf Coast Astros, later promoted to the Greenville Astros.
Correa played with the Class A Midwest League team the Quad City River Bandits during the 2013 season.
On January 14, 2014, as a non-roster player carlos Correa was invited to the Astros' spring training.
He played with the Kancaster JetHawks in the 2014 season.
He fractured his fibula and underwent surgery on June 21, 2014.
Carlos was invited for the second time to the Astros' spring training in 2015, subsequently assigned him to thre Corpus Christi Hooks, before he was promoted to the Fresno Grizzlies on May 11, 2015.
Finally on June 8, 2015, carlos Correa got to make his MLB debut with the Astros against the Chicago White Sox.
On June 9, 2015, he hit his first homerun and stole his first base.
Correa and the Houston Astros won the 2017 World Series defeating the Los Angeles Dodgers in Game 7.
He represented his hometown at the  2017 World Baseball Classic in March 2017.
He was placed on the 10-day disabled list with a back ailment on June 28, 2018.
He underwent surgery to fix a  deviated septum, on November 10, 2018.
Miss the 2019 Opening day due to neck stiffness.
Recorded his 500th Career-Hit on April 3, 2019, against the Rangers.
Recorded a walk-off home run in the 9th inning against the Tampa Bay Rays on  October 15, 2020.
On September 21, 2021, Carlos Correa became the first Astro shortstop to score the 100th run in a season.
 March 22, 2022: Carlos signed a deal with the Minnesota Twins.
Carlos Correa MLB Awards
Received the 2015 Players Choice Awards he received the AL Outstanding Rookie Award.
He was named  AL Rookie of the Year by the Baseball Writer's Association of America on November 16, 2015.
He was named AL Player of the Month in May 2017.
 In 2017 Correa was named a reserve to the MLB All-Star Game
Included in the 2017 All-World Baseball Classic Team.
Won the 2017 World Series.
 He was named a reserve to the MLB All-Star Game in 2019.
In October 2021, Carlos Correa was named  the Astros' MVP by the Houston Chapter of the Baseball Writers Association of America.
Carlos Correa Net Worth
As of 2021, Carlos Correa has a net worth estimated at $7 million, according to Wealthy Gorrilla. Carlos Correa would be worth over $125 million or maybe even more when he reaches the free agency after the 2021 season.
Related Story: Lance McCullers Wife Kara McCullers
Carlos Correa Contract & Salary
Carlos Correa's current one-year, $8 million contract, included a signing bonus and a salary of $11.7 million.
Carlos Correa signed his first contract a $4.8 million signing bonus with the Astros on June 7, 2012. He earned $507,500 in 2015,$516,700 in 2016, $535,000 in 2017, and roughly $1 million in 2018. He aggred to a one-year, $5 million contract in 2019 and another one year, $8 million contract for the 2020 season.
Correa turned down the Astros' 120 million, six-year  and $125 million, five-year offers.
Carlos Correa Wife
Daniella is first and foremost a smart and beautiful woman, no wonder Correa pursued her like crazy. Luckily, she decided to give the young Ponce native a chance.
Some people believe, Daniella and Carlos met in September 2016, when the recently crowned Miss Texas was invited to throw the first pitch at the Astros game; because a few months after that, photos of them together appeared on each other's Instagram accounts.
Daniella Rodriguez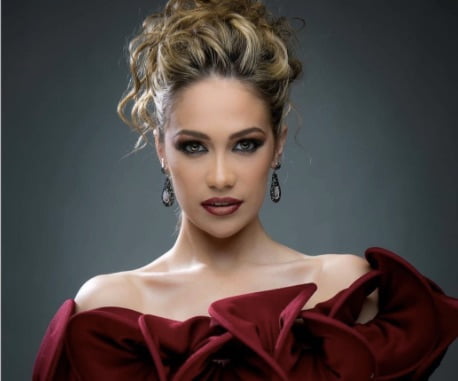 24-year-old Daniella from Laredo, Texas (b. July 28, 1996), was 16 years old when she became Miss Texas Teen in 2013, three years later she won the Miss Texas beauty pageant; becoming the third Latina to win the contest in a row, she has Mexican roots.
At that time, Daniella was in addition to working at her family business, a student at Texas A&M International University.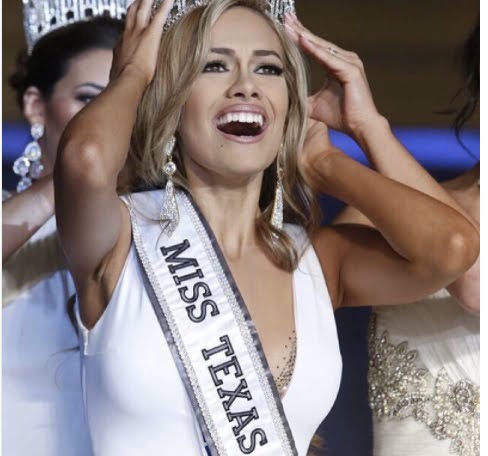 Back in 2013, Ms. Rodriguez, already the recipient of a UIL One-Act All-Star award; was an aspiring actress having appeared in six mini pre-thesis films at three University of Texas.
5'9" Daniella, Miss Old Central Webb at the 2016 Miss Texas contest, represented Texas at the Miss USA pageant on June 5, 2016; however, she failed to make it to the top 15.
Carlos asked Daniella to marry him right after the Astros won the World Series in Los Angeles.
SHE SAID YES! pic.twitter.com/G4Z7kxFQK5

— ESPN (@espn) November 2, 2017
View this post on Instagram
Carlos Correo and Daniella Rodriguez got married in a courthouse on November 11, 2019.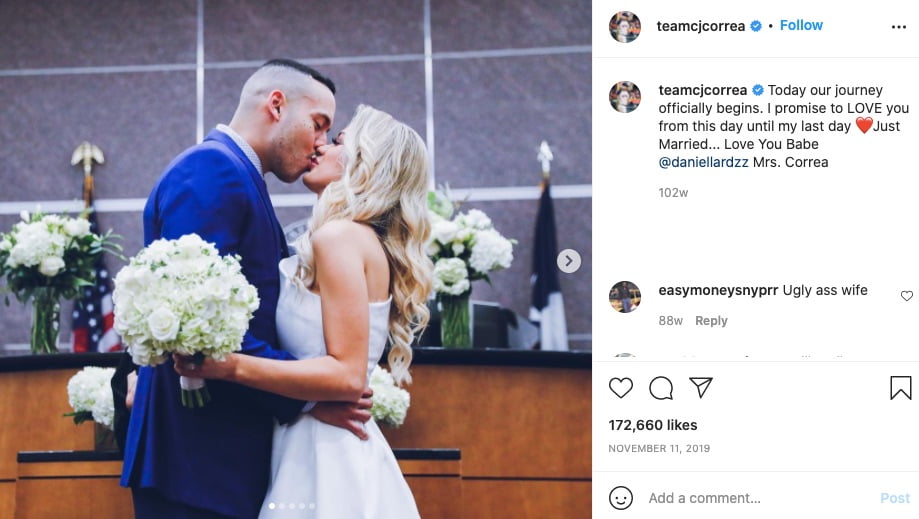 They celebrated their religious nuptials with friends on family on December 7, 2019, in the Dominican Republic.
Daniela and Carlos Correa revealed they were expecting their first child together thru Instagram on June 16, 2021.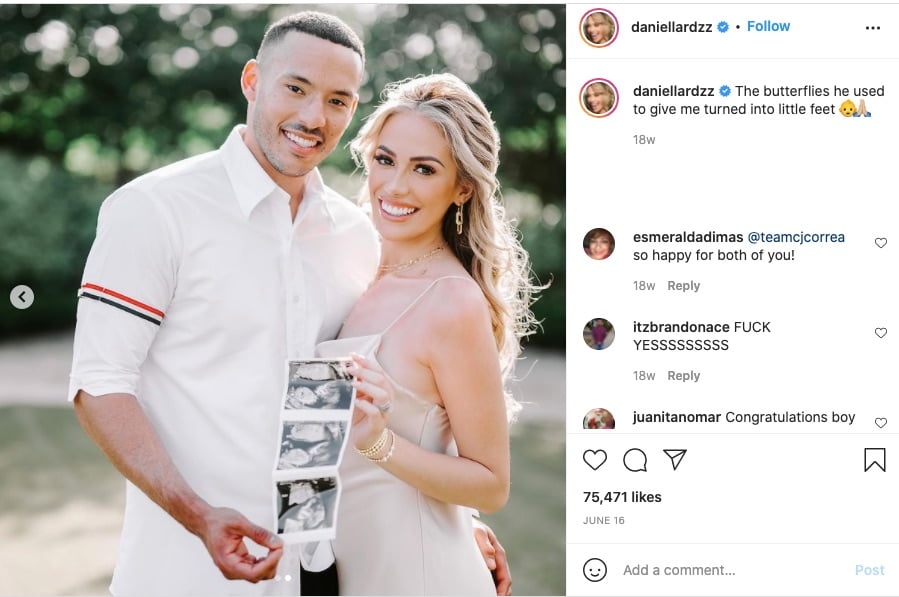 On August 13, they revealed they were having a boy!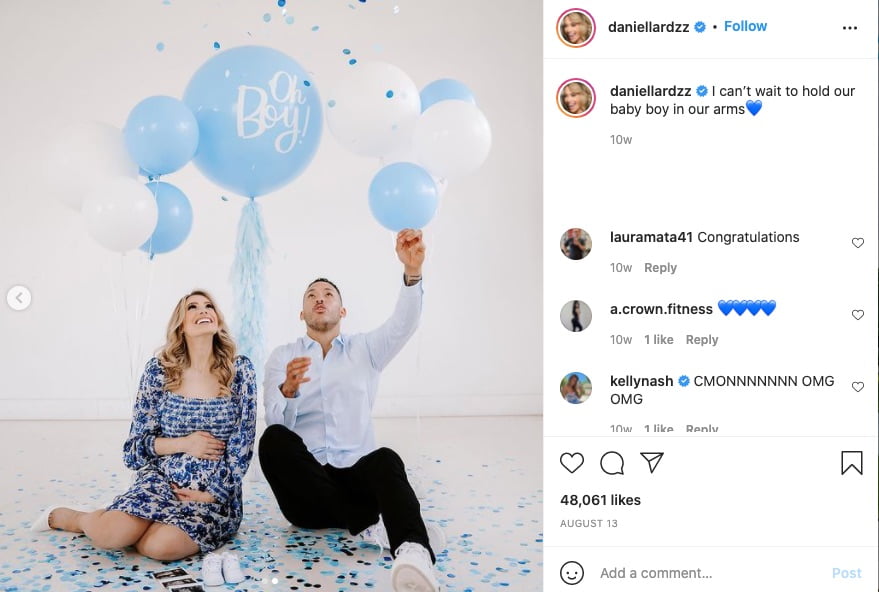 Follow her on Twitter here and check her on Instagram here.