Katarina Smolkova
Meet lovely Katarina Smolkova aka Katarína Saganová; she is the gorgeous wife of Slovak cyclist Peter Sagan. Her hubby is currently competing in the Tour de France –for cyclists is as big as it gets –vows that he can win stages as well as content for the points jersey all the way to Paris.
Katarina's guy, a brilliant rider and an extraordinary talent of Slovak sport was born in Zilina on 26th January 1990.  He grew up in Zilina's part called Bôrik together with his older brothers Milan and Juraj and his sister Danka. His parents, father Lubomir and mother Helena, supported him in his achievements in every way.
Mrs. Saganova
29-year-old Katarina worked with Jerusalem artichoke's products which is one of the products as Fytosal ltd. where Katarina wathe Marketing Coordinator. The lovely Slovak who is all about being healthy and is in great shape, speaks Czech, English, French, Slovak and German.
She attended Univerzita Mateja Bela v Banskej Bystrici for her Master of Arts (M.A.), Finance, Banking, Investment; graduating in 2011. According to her LinkedIn, she also has studied abroad including University of Economics, Prague and Hogeschool Rotterdam, Netherlands. She also attended the Cambridge Advanced English Program.
Her experience includes working at DHL IT Services Prague as an Optimization Project Coordinator from 2010 – July 2011. Subsequently in 2012,  worked for ANZ E*TRADE Australia as a Client Services Consultant. She is knowledgeable in Public Speaking, Customer Service, Event Management, Event Planning, Office Management, Fundraising and Teaching.
During her teens Katarina –who had no experience in modeling –participated in the 2007 Miss Universe Slovak Republic, advancing to the top twelve.
Furthermore, Katarina and Peter tied the knot on November 11, 2015; they welcomed their beautiful son Marlon on October 25, 2017.
Moreover, on July 18, 2018, Peter announced he and Kate decided to separate as a couple.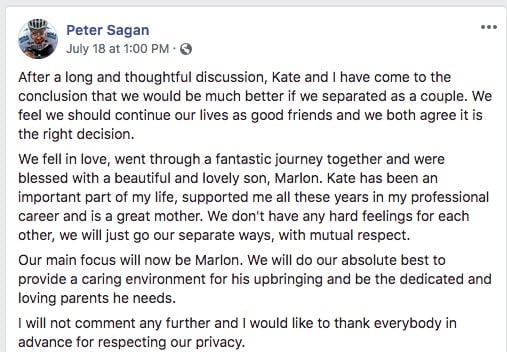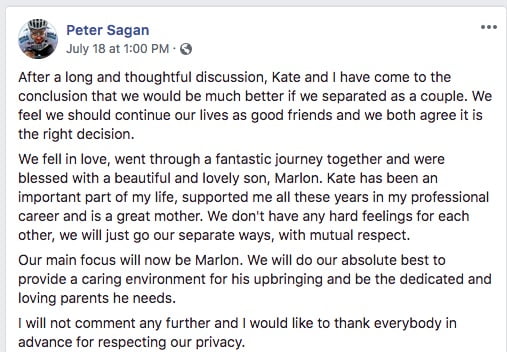 You can see more of her on Twitter here and check her Facebook profile here.