Have you met Janine McCormack? This magnificent and drop-dead gorgeous lady is the proud mother of David McCormack, the outstanding center for the Kansas Jayhawks men's basketball team, which includes teammates Ochai Agbaji and Remy Martin  are coached by Bill Self.
David McCormack High School
David McCormack threw the discus and the shot put as well as played football and basketball while he attended Norfolk Academy and later at Oak Hill Academy. Coached by Steve Smith, McCormack averaged 10.6 points and 8.6 rebounds his junior year and 13.4 points per game as a senior when he also led his team to the 9A title as a senior.  David was also a member of the National Honor Society.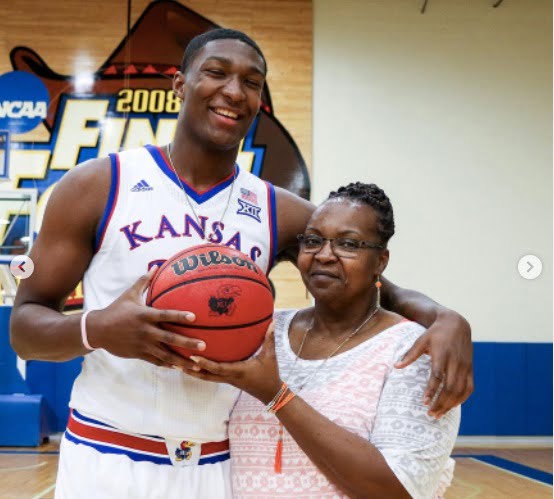 David McCormack Weight loss and Fitness
A healthy diet and Fitness was something that stuck with David McCormack since his days at Norfolk Academy, Eric Acra his coach and guidance counselor at Norfolk as well as his mom Janine McCormack and Aunt Kara Moss remember David's battle.
He was in Norfolk when his weight affected his play, he was standing at 6'7 but weighed more than 300 lbs.
"We had homestyle lunches every day," Norfolk Academy basketball coach Eric Acra told the Journal-World. "And you can imagine a boy that big, walking into a place where it's unlimited seconds, thirds, fourths, every day. He was really enjoying himself."
"You couldn't move him off the low block," Acra recalled. "He was going to be an old-school, back-to-the-basket player. I didn't want him to get too thin too quick and lose that aspect of his game, but, by the end of his freshman year, it was clear he was determined to see how good he could be."
David McCormack started changing his diet, searching for low carb meals, lean proteins and shrimp, fish, poultry along with fruits and vegetables in exchange for junk food, the sweets… not so much, Cheesecake is his favorite.
"It was pretty difficult in the very beginning," he said. "You would see people eating stuff that you'd want and you'd think, 'Ah, I could really go for that.' Cheesecake is probably still my kryptonite."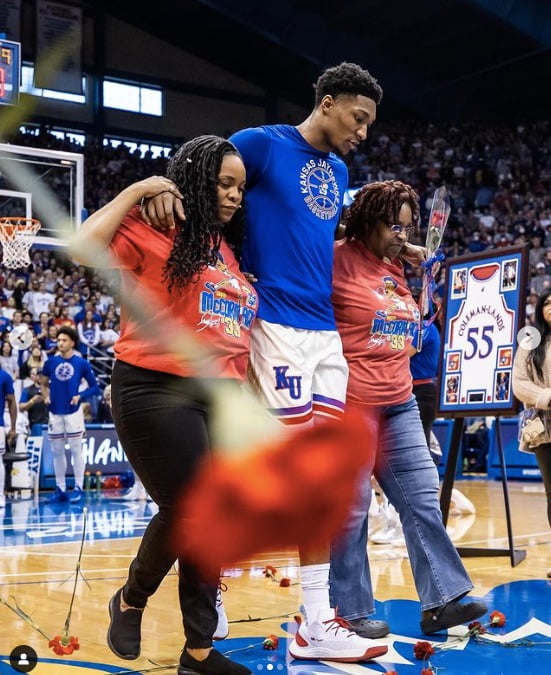 "The boy loved to eat," said Aunt Kara. "I remember him telling me one time that I never took him to Cheesecake Factory and I always took his brother," Aunt Kara said. "So I promised to take him. But by that time he had pretty much given up cheesecake and then I felt really, really bad. He'd say, 'What's the point now? I don't even eat it that much.' But we went anyway and we enjoyed it. He still indulges from time to time. And I always tried to help him see that it's not about starving yourself, it's about finding balance."
David woke up at 4:00 a.m. every day, his mom Janine didn't like it at all.
"I used to hate it," Janine said during a recent interview with the Journal-World about her son, the newest starter on the 12th-ranked Kansas men's basketball team. "He would wake me up and say, 'Mom, I'm leaving. I'll see you later.' And I was like, 'No you're not. Where you going? You're not leaving this house.' But he always went. He would have that yoga mat and he would go down to the oceanfront to do his exercises."
David did intensive training at Virginia Beach and continued at home.
 "David did it all on his own. They didn't give him a plan or anything like that. He was like, 'No. I've got to feel better going up and down this court. I've got to be healthier.' And he just started eating better and working out more."
"He was like, 'Go!' And he'd do one, two, three, four, five things, and he would go on to the next thing and then the next thing," Janine recalled. "When I say the sweat was pouring off of him, I mean it was pouring off."
The sacrifice paid off, pretty fast and they all noticed. David lost 70 pounds, he didn't look skinny but pretty muscular.
"All of a sudden, he's starting to V up from the waist up, and that's a pretty cool thing to see when you look in the mirror," Acra said. "He saw the results, he liked what he was doing and he said, 'OK, I'm all-in. Let's go.'"

"I took to it pretty quickly," Daid said. "I felt the difference after a couple months and I was like, 'I like this feeling much better. It's definitely helping me on and off the court.'"
David McCormack has his mom's help with his diet in the kitchen, once he went to college he continued his regime on his own.
"I'm just so very proud of him," Janine said of her son. "He's been so disciplined, and for him to do all of that so far away from home, it's just amazing. I'm a mom, so I worry. But to this day, every time I call and ask how his grades are or how his diet is or if he's working hard enough, he's like, 'Mom, I've got it. I'm good. I have it all under control.'"
Kansas Basketball David McCormack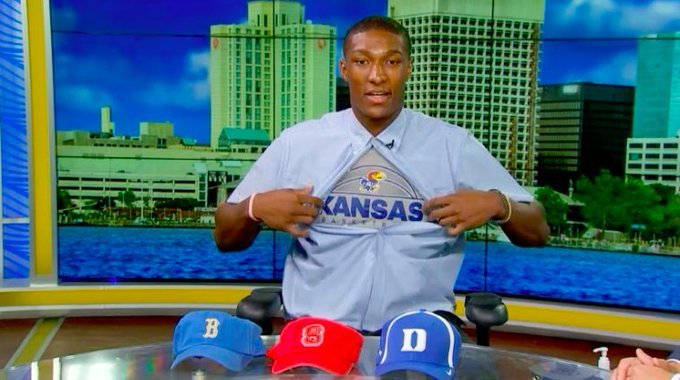 David McCormack ranked No. 33 nationally by Rivals.com committed to play for the Kansas Jayhawks on September 24, 2017.  He chose Kansas over offers from Duke, Nort Carolina State, Oklahoma State, Xavier, Auburn Baylor, Florida State, Wake Forest, Virginia Tech, VCU, UCLA, Texas A&M, Seton Hall, Pittsburgh, Old Dominion, Penn State, LSU, Miami, Maryland, Georgia Tech, Georgetown.
From all the colleges mentioned, McCormack visited, NC State on September 1st, 2017, Xavier on September 8, Oklahoma State on October 13, and Kansas on September 29.
Freshman Year: Averaged 3.9 points and 3.1 rebounds in 34 games (13 starts).
Sophomore Year: He averaged 6.9 points, 4.1 rebounds, 18 assists, 12 blocks and 13 steals in 29 games (18 starts). He was named into the Academic All-Big 12 First Team and was nominated for Academic All-America.
Junior Year: Averaged 13.4 points,  6.1 rebounds, 20 steals, 30 blocks, and 33 assists in  29 games (28 starts). McCormack was named to the Big 12 Most Improved Player Award, All-Big 12 Second Team and Academic All-Big 12 First Team, and was  Kansas Chancellor Douglas Girod to participate in the 2020 University's Campus Task Force on Community-Responsive Public Safety. After the season was over he underwent surgery on his right foot.
Senior Year: Averaged 10.5 points, 6.9 rebounds, 24 steals, 32 blocks and 36 assists in 39 games (36 starts). Named McDonald's All-America, earned his undergraduate degree in communications studies in May 2021.
On April 2, 2022,  David McCormack recorded 25points, 9 rebounds and one assist against Villanova advancing to the NCAA Tournament Championship, against Hubert Davis, Armando Bacot, Caleb Love and the Tar Heels basketball team.
David McCormack Height and Weight
Born in Bronx, New York, David McCormack stands at 6'10 and weighs 250 lb.McCormack's height has been something that also made him stand up since birth  8 pounds and 15 ounces over 24 inches.
"We would go places and I would think, 'Gosh, why are those other kids so small?'" said Janine, remembering trips to the park or playground when David was 5 years old. "My sister, Kara, would tell me, 'Those children are normal size. Your child is the abnormal one. Your kid is huge.'
Height 6'10 in, 2.08 m
Weight 250 lb, 113 kg.
DOB July 2, 1999
Place of Birth Our Lady of Mercy Hospital in the Bronx, NY.
Hometown Moved to Norfolk, Virginia when he was two.
Mother Janine McCormack
Father Dain McCormack
Siblings Daniel Kelly
Girlfriend Unknown
David McCormack Jersey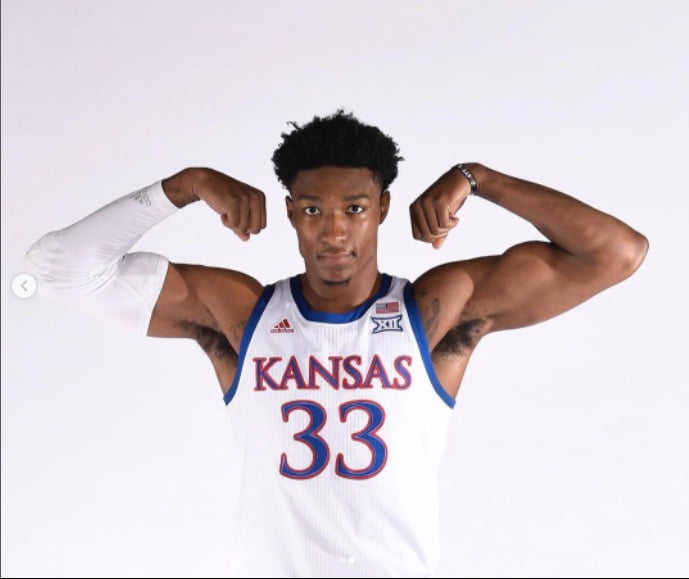 Kansas Jayhawks fans looking for David McCormack's #33 jersey, you can get yours at Shop Coll Basketball.
David McCormack Parents
You'll find tons and tons of articles regarding David McCormack's mother Janine McCormack online, but there is no mention of David McCormack's dad. However, in his grandmother's obituary, Janine McCormack's husband is named, Dain McCormack.

David McCormack Father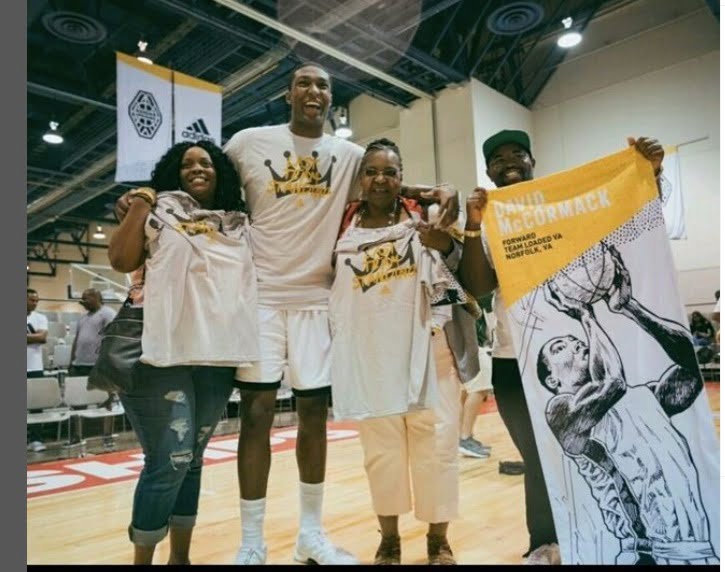 Online records showed that Janine McCormack of Virginia is married to Leeard McCormack.
David McCormack Mother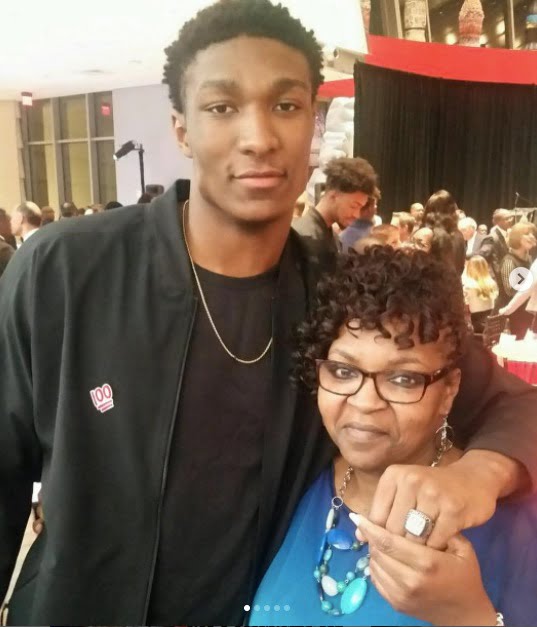 Janine McCormack
Janine McCormack was born on August 4, 1964. She is one of three daughters born to Daisy and Clifford Daniel. Her sisters are Rhonda Tedder and Kara Moss.
Janine's mom, worked as a medical office assistant at  Chesapeake General Hospital. She also worked for the New York Telephone for over three decades. Mrs. Daniel born on June 19, 1942, in Lane, South Carolina graduated from George Washington High School. She was 76, when she died of breast cancer on March 20, 2018.
David McCormack Girlfriend
As far as we know David McCormack doesn't have a girlfriend at the moment.
Related Story: Remy Martin Mother Mary Ann Macaspac