Meet the lovely Mrs. Erica Agbaji; she is the beautiful and proud mother of Ochai Agbaji, the shooting guard for the Kansas Jayhawks at Kansas University under head coach Bill Self. Agbaji was named to the 2022 Consensus First-team All-America, First-Team All Big-12, and was named Big 12Player of the Year.
Ochai Agbaji  High School
Shooting guard Ochai Agbaji was an avid soccer player before attending Oak Park High School in Kansas City, Missouri, for coach Brennan Scanlon. He averaged  23.0 points and 6.0 rebounds his junior year and 27.6 points and 8.6 rebounds per game his last year at Oak Park; Ochai won the DiRenna Award, was named Greater Kansas City Basketball Coaches Association (GKCBCA) player of the year in 2017-1 and Kansas City-Star All-Metro Player of the Year.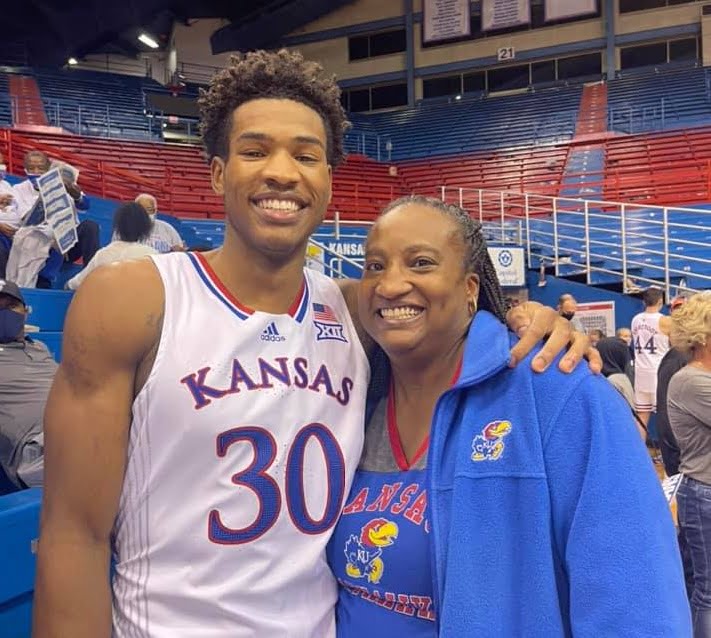 He received scholarship offers from Wisconsin, Texas A&M, and Kansas. He committed to play with the Kansas Jayhawks on February 8, 2018.
Ochai Agbaji  Height & Weight
Ochai Agbaji's height is 6'5, and he weighs 215 lbs. He was born on April 20, 2000, in Milwaukee, Wisconsin.
Full Name Ochai Young Agbaji
DOB April 20, 2000
Hometown Milwaukee, Wisconsin
Height 6'5 in (1.96 m).
Weight 215 lb. (98 kg)
Parents Olofu and Erica Agbaji
Siblings Sister Orie Agbahi
Girlfriend Unknown.
Kansas Jayhawks Men's Basketball Ochai Agbaji
Freshman Year: Ochai Agbaji didn't play his first game during his Freshman year; he ended his first year at Kansas, averaging 8.5 points, 10 steals, 20 assists, 4.6 rebounds in 22 games (16 starts).
Sophomore Year: Ochai Agbaji averaged 10.0 points, 38 steals, 8 blocks, 62 assists, 4.2 rebounds in 31 games, all starts; he was named Academic All-Big 12 Second Team honoree and received All-Big 12 Honorable Mention.
Junior Year: He received All-Big 12 Honorable Mention and Academic All-Big 12 First Team selection. Averaged 14.1 points, 33 steals, 14 blocks, 55 assists, 3.7 rebounds in 30 games, all starts. He entered the 2021 NBA draft on April 8, 2021, but decided to go back to Kansas.
Senior Year: He was named the Big 12 Player of the Year; averaged 18.9 points per game, 35 steals, 20 blocks, 60 assists, and 5.2 rebounds in 37 games.
Ochai and the Jayhawks advanced to the NCAA Championship after defeating Villanova. On April 4, 2022, they will fight for the title against Hubert Davis, Armando Bacot, Caleb Love and the rest of the Tar Heels
Ochai Agbaji Family
Ochai Agbaji is the youngest child of former college basketball players Olofu and Erica Agbaji; his older sister Orie Agbaji also plays basketball.
Ochai Agbaji Father
Olofu Agbaji
6'7 Olofu Agbaji was born on December 4, 1968, in Nigeria. Olofu Agbaji was 17 years old when he moved to the United States. He played basketball (guard) at prep school before playing at the University of Wisconsin-Milwaukee, where he averaged 5.1 points and 4.1 rebounds in 56 games (27 starts).
Ochai Agbaji Mother
Erica Agbaji
Erica Agbaji met her husband Olofu when they both attended the University of Wisconsin, where Erica was a women's basketball team member. Erica Agbaji was born Erica Young on February 15, 1972, in Plymouth, Wisconsin.
Erica, the daughter of Carol and the late Warren Young, she attended Plymouth High School and later at Baker University before transferring to the University of Wisconsin. Mrs. Agbaji is a kindergarten teacher at Gashland Elementary.
Ochai Agbaji Sister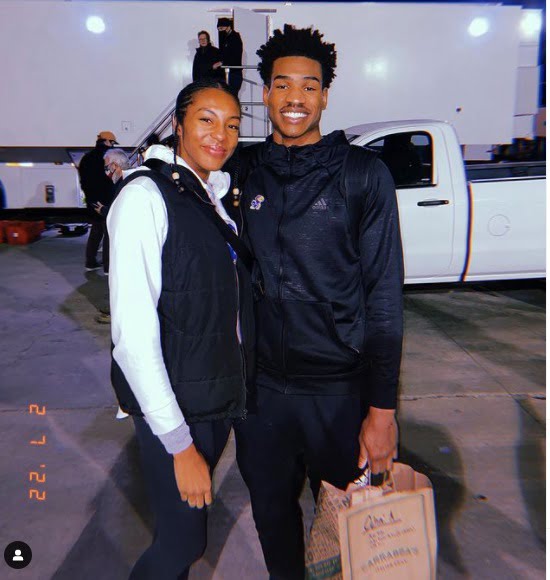 Orie Agbaji
Ochai's sister Orie Agbaji was born Orie Mae Agbaji on September 7, 1997. Orie played volleyball at Oak Park High School before going to the University of Texas.
She was named  MVP of the European Global Challenge, one of Volleyball Magazine's Top 5 Players in the Class while at Oak Park. At the University of Texas, she was named to the 2019 Academic All-Big 12 First Team; She graduated from the University of Texas at Austin with a Bachelor's degree in communications and leadership in 2020.
Orie is a  regional sales manager at Q2 in Texas; before that, she was a marketing intern at MssChallenge. Back in 2019, did an internship at EarBuds.
Ochai Agbaji Girlfriend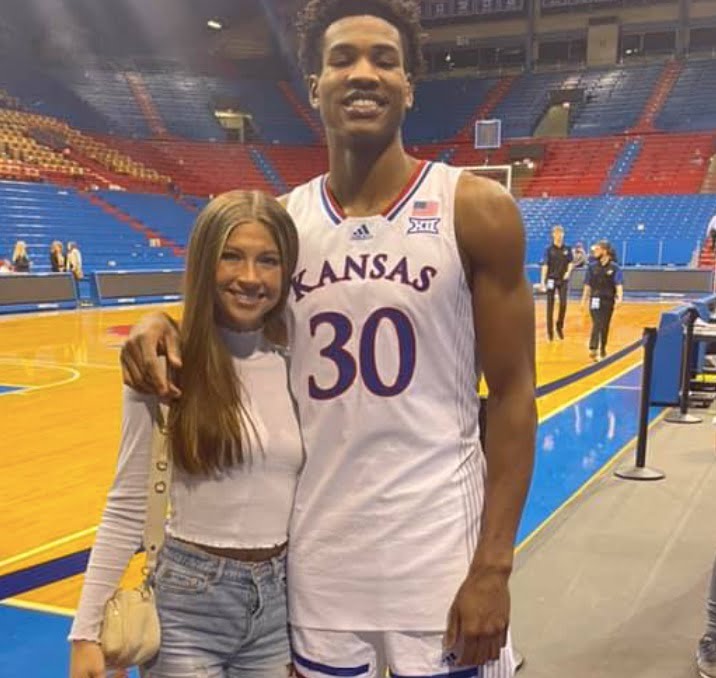 There is a change Ochai Agbaji has a girlfriend; we found two pictures with this stunning girl; her name sadly is a mystery.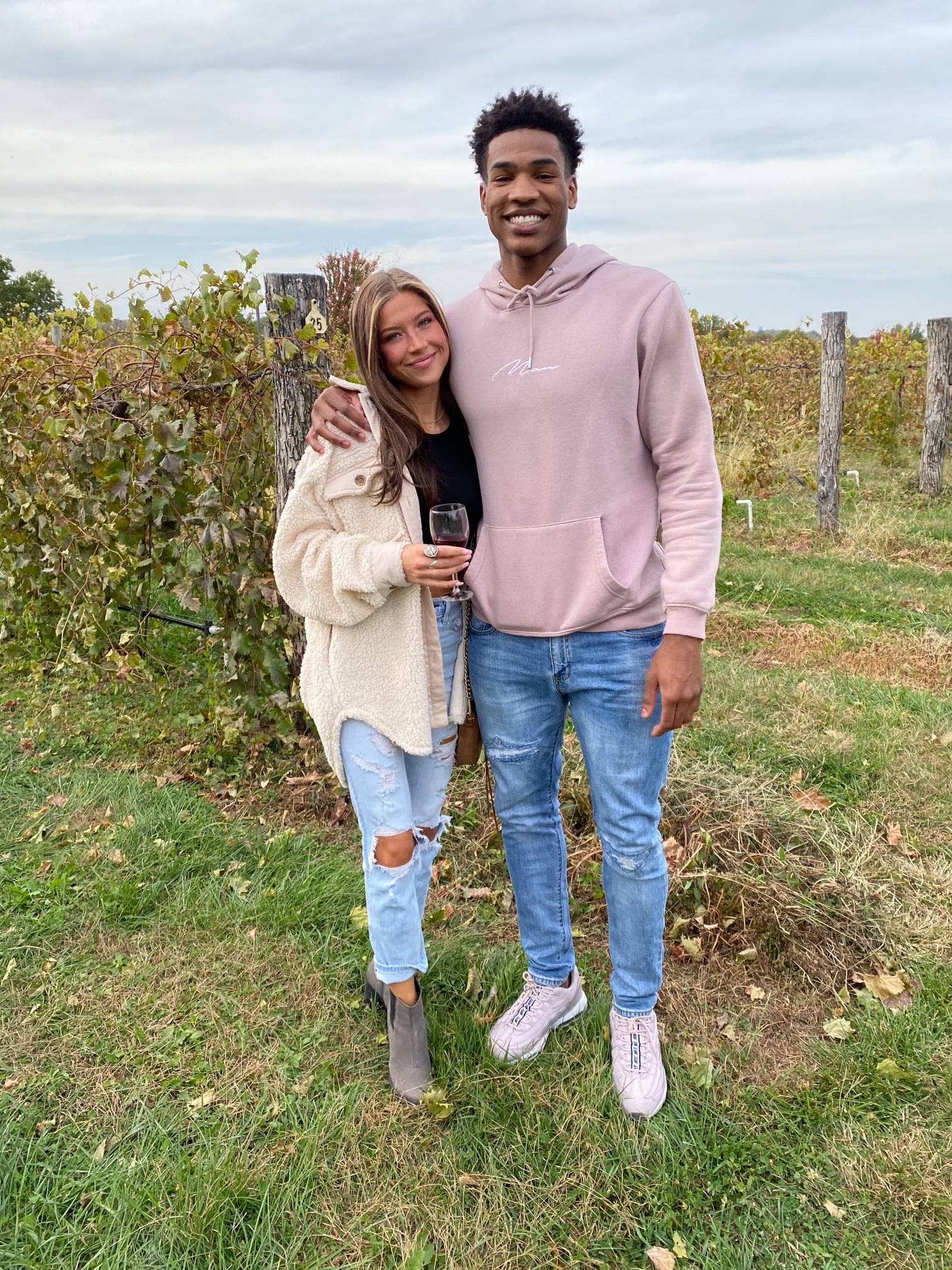 Suffering from Jayhawks fever? then check out our story on David McCormack and Remy Martin.