Denise Garoppolo
Meet Mrs. Denise Garoppolo! She is the beautiful and wonderful mother of NFL player Jimmy Garoppolo, aka Jimmy G, the outstanding quarterback for the San Francisco 49ers who previously played for the New England Patriots.
Jimmy Garoppolo College
Prior to the NFL Denise's son, Jimmy Garoppolo played as an outside linebacker while at Rolling Meadows High School in Illinois where he graduated in 2010. Later, he enrolled in Eastern Illinois University and played for the Panthers from 2010-2013. In addition to Easterner Illinois, Garoppolo also received scholarship offers from Montana and Illinois State.
As a senior at Eastern Illinois, Garoppolo passed for 5,050 yards and 53 touchdowns. Denise's boy also won the Walter Payton award as the most outstanding player in Division I football during his senior year in 2013. He has previously won the All-Ohio Valley Conference Newcomer Award.
Read: Brock Purdy Girlfriend Jenna Brandt
Jimmy Garoppolo NFL Career Timeline
Following a standout collegiate career with the Eastern Illinois Panthers, he was selected in the second round of the 2014 NFL Draft by the New England Patriots –winning Super Bowls XLIX and LI with the Patriots.
The Patriots traded Jimmy on October 31, 2017, to the San Francisco 49ers, in exchange for the second-round pick in the 2018 NFL Draft. He made his debut with the 49ers against the Seattle Seahawks in week 12.
He was named starting QB for the 49ers on November 28, 2017.
He signed his first contract with san Francisco on February 8, 2018.
Garoppolo was voted the 90th best player in the league on the NFL Top 100 Players of 2018 on April 30, 2018.
On August 2, 2018, Jimmy tore his ACL, missing the rest of that season.
On September 8, 2019, Jimmy G made his return against the Tampa Bay Buccaneers.
Reached Super Bowl LIV, sadly they lost 31-20 against the Kansas City Chiefs.
Due to a high-ankle sprain, Garoppolo and Kittle (who suffered a small fracture in his foot) were placed on the injured reserve on November 5, 2020.
Jimmy Garoppolo NFL Stats

Pin
Jimmy Garoppolo Net Worth
6'3 Jimmy Garoppolo has a net worth estimated at $25 million, according to Celebrity Net Worth. In addition to his NFL contract, Jimmy G earns around $200,000 from his endorsement deals.
Jimmy Garoppolo Contract
On February 8, 2018, Jimmy G signed a five-year contract worth $137.5 million, the deal included a signing bonus of $7 million,  $74,100,000 guaranteed with the San Francisco 49ers.
On June 3, 2014, Jimmy Garoppolo signed a four-year contract worth $3,483,898, $1,103,744 guaranteed, and an $853,744 signing bonus, with the New England Patriots. When the Patriots won Super Bowl LII, they gave Garoppolo $107,000, because he was still on the Patriots roster for eight games before they traded him to San Francisco.
Jimmy Garoppolo Salary
According to Spotract, Jimmy Garoppolo earns an annual salary of $27,500,000.
Related Story: Elijah Mitchell GF Jasmine LeJeune
Jimmy Garoppolo Endorsements
According to Forbes, Jimmy Garoppolo earns $200,000 from his endorsement deals with Bose, Nike, New Era, Jordan Brand, Men's Wearhouse, Levis, and Travis Mathew.
View this post on Instagram
Jimmy Garoppolo Jersey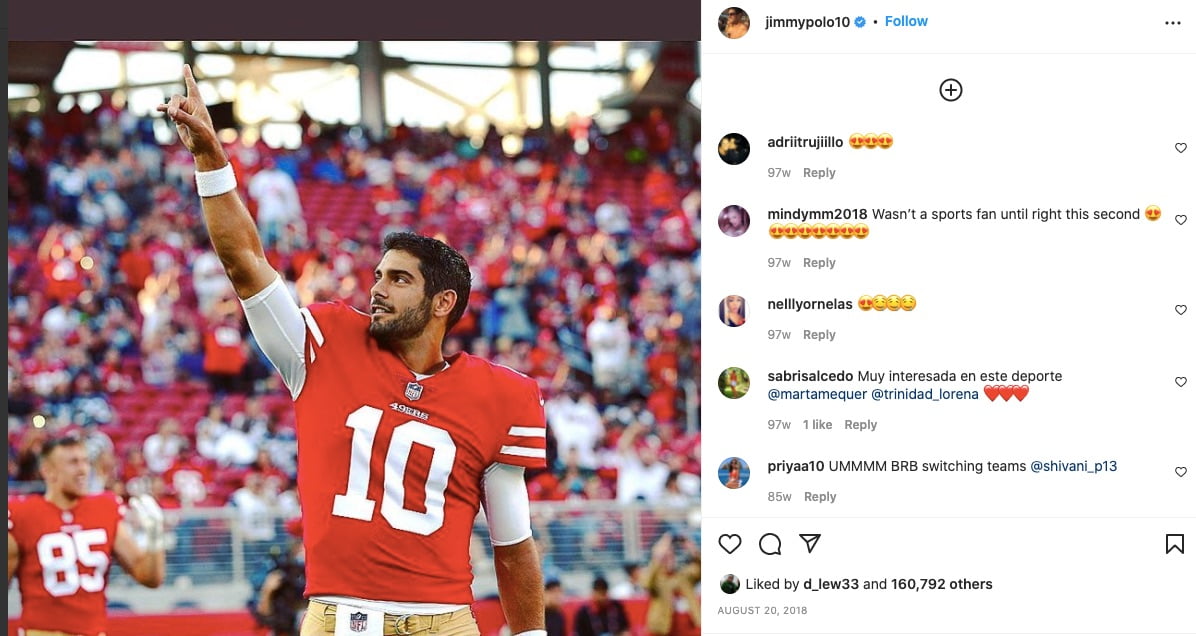 Pin
Jimmy Garoppolo's #10 jersey, is one piece of clothing you all san Francisco 49ers fans must-have, The 49ers shop has it available, You can also find your Garoppolo's jersey at Fanatics. You can also find a great selection at Amazon.
Jimmy Garoppolo Married
Jimmy Garoppolo who many women consider to be the hottie of the NFL, is not married and doesn't have any children either. Aside from his good looks and talent on the field, Jimmy is described as a smart fella, well-spoken, and keenly focused on his career.
He seems to be single at the moment but with NFL players and professional athletes, you never know. Being single could be something of a worry for Italian mothers.
Jimmy Garoppolo Girlfriend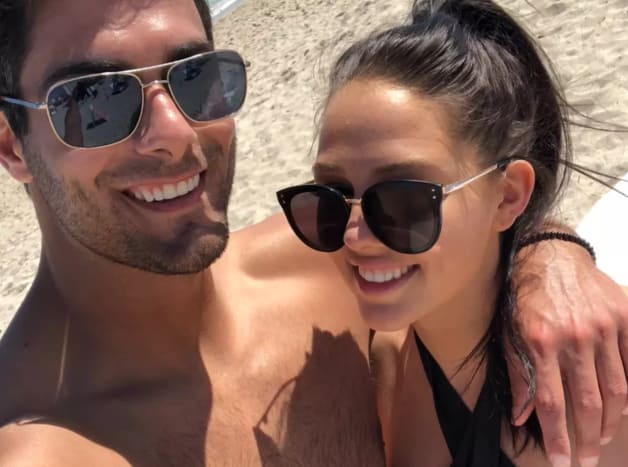 Pin
A couple of years ago, Garoppolo dated Alexandra King; after that ended he was seen on a dinner date with Kiara Mia in July 2018.
He was also seen pretty cozy with a mysterious blonde leaving Paper Plane, a cocktail lounge in San Jose.
Jimmy Garoppolo Mother
Denise Garoppolo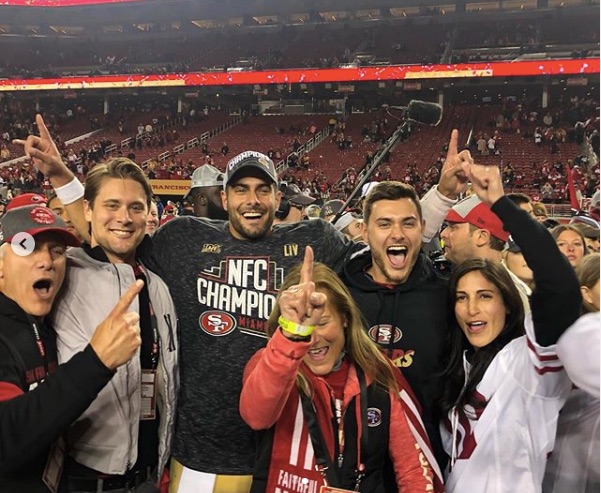 Pin
Denise and her husband Tony Garoppolo are the parents of four children, including Jimmy's older brothers, Tony, Mike and younger brother Billy Garoppolo.
Denise Garoppolo gave birth to her son Jimmy on November 2, 1991, in Arlington Heights. Her husband an electrician, and Denise a personnel chef at Mindful Meals, raised their children in a middle-class home in Arlington Heights, Ill., a suburb northwest of Chicago.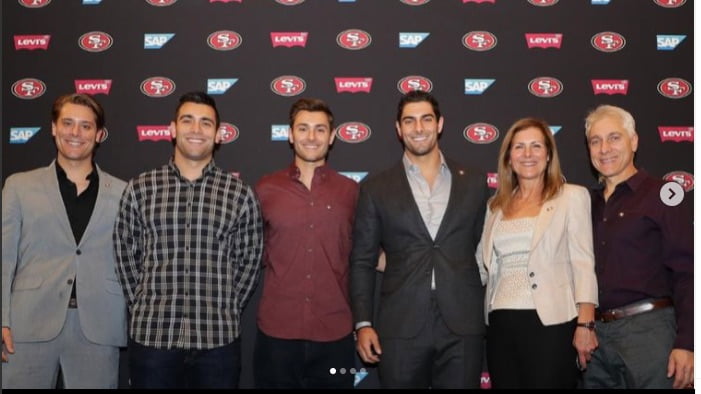 Pin
Denise Garoppolo might be on the lookout for a nice, Italian, Catholic girl for his NFL star son, but in the meantime, she spends her time giving him her full support.
Furthermore, Mrs. Garoppolo was born Denise F. Malec on  March 10, 1959; she is one of four children born to Harriet and Stanley Malec; her siblings are Donna, Debbie, and brother Dan Malec.
Mrs. Garoppolo's parents Stanley and Harriet passed away in 1996 and 2009, respectively; her brother was 63 when he died in October 2012.
Related Story: Trey Lance Mother Angie Lance
Jimmy Garoppolo Father Tony Garoppolo
Pin
Jimmy Garoppolo's electrician father Tony Garoppolo born Anthony J. Garoppolo on December 3, 1956, to Jane and Tony Garoppolo; his momma Jane Helen Garoppolo (b. March 14, 1935) was born in Illinois to Italian parents. It seems that Tony Garoppolo has one sister Kathryn Garoppolo Warner (b. March 24, 1965) the supply chain manager for Motorola who graduated from Valparaiso and DePaul University with a BS in Electrical Engineering and a Masters in International Business respectively.
Jimmy Garoppolo Brothers

Pin
As previously said Billy G has three brothers, Jimmy Garoppolo, the youngest and older bros, Michael and Tony Jr.
Michael Garoppolo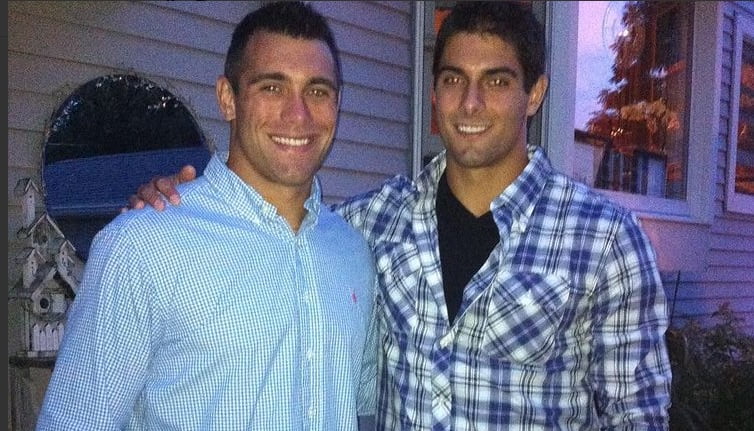 Pin
Jimmy G's brother Michael Garoppolo was born on November 12, 1988. He graduated in 2007, from Rolling Meadows High School and in 2012, received his Bachelor of Science in Physical Education from Western Illinois University.
Michael Garoppolo is a physical welfare instructor at Niles North High School. He and his pretty wife Briana Lee Garoppolo are expecting their first child together.
Tony Garoppolo
Pin
Tony Garoppolo, like his brothers, attended Rolling Meadows High; he later received his MA in Architecture from Southern Illinois University. Tony is a member of the U.S. Green Building Council and is a senior designer at HOK in San Francisco.
Billy Garoppolo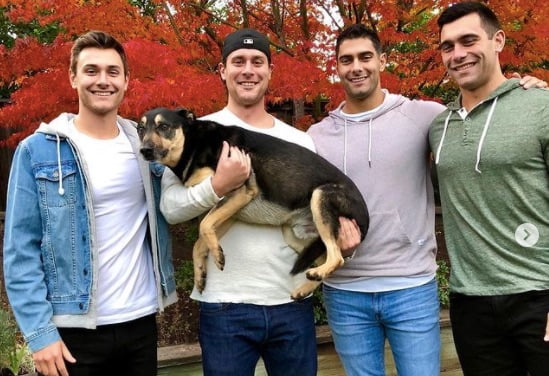 Pin
Billy Garoppolo was born on October 10, 1995, in Rolling Meadows, Illinois, where he attended Rolling Meadows High School graduating in 2014. 6'0 Billy Garoppolo played baseball and football (quarterback) in high school. He attends college in San Jose, California.
Jimmy Garoppolo Instagram
Jimmy Garoppolo posts from time to time on Twitter where he has over 235k followers, and more regularly on Instagram where he has 1.2 million followers.