Denise Garoppolo
Denise Garoppolo is the proud mother of NFL QB Jimmy Garoppolo –who is currently a player with the New England Patriots.
He played as an outside linebacker while at Rolling Meadows High School in Illinois where he graduated in 2010. Later, he enrolled in Eastern Illinois University and played for the Panthers from 2010-2013. As a senior at Eastern Illinois, Garoppolo passed for 5,050 yards and 53 touchdowns. Denise's boy also won the Walter Payton award as the most outstanding player in Division I football during his senior year in 2013. He has previously won the All-Ohio Valley Conference Newcomer Award.
He was widely considered a top prospect for the NFL after leading the Eastern Illinois University football team as quarterback.
Following a standout collegiate career with the Eastern Illinois Panthers, he was selected in the second round of the 2014 NFL Draft by the New England Patriots –winning Super Bowls XLIX and LI with the Patriots.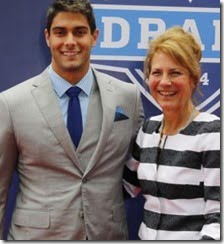 Denise and husband Tony Garoppolo are the parents of four children, including Jimmy's older brothers, Tony and Mike.
Mike Garoppolo currently works as a Fitness Instructor at Niles North High School, according to his Facebook profile.
Denise Garoppolo gave birth to son Jimmy on November 2, 1991 in Arlington Heights. Her husband an electrician, and Denise a cook, raised their children in a middle-class home in Arlington Heights, Ill., a suburb northwest of Chicago.
No doubt Denise's son has been one of the most talked about players, since having to fill in for Tom Brady. But aside from his good looks and talent on the field, Jimmy is described as a smart fella, well-spoken and keenly focused on his career.
He seems to be single at the moment but with NFL players and professional athletes you never know. Being single could be something of a worry for Italian mothers.
Denise Garoppolo might be on the lookout for a nice, Italian, Catholic girl for his NFL star son, but in the meat time she spends her time giving him her full support. The home she and her husband share in Arlington Heights, Ill., was decorated with Patriots symbols after their son was drafted by the team.
Denise Garappolo and the rest of the family were also present the day Jimmy was invited to New York City for the draft.
Good genes running in the family huh!
Check out Denise's son on Instagram here.