Meet lovely French Fanny Lafon, she is the girlfriend of Attacking midfielder for  Olympique Marseille, Mathieu Valbuena. Her man is absolutely vital to any success that France achieves this summer and it is clear why clubs like Liverpool and Arsenal are still being linked with the 29-year-old.
It seems things are going great for him both career wise and personal life. The couple seem very solid after three years of relationship. They have been dating at least since 2011 and they live together so whatever her man goes, Fanny goes.
Valbuena officially announced the relationship with the young woman in an interview with Paris:
I matured. I have a girl, Fanny, it goes well, we live together.
Fanny who is her late 20's seems like a fun woman, on her Instagram we found several pictures of her enjoying time with friends and family. She also has a great body and the nicest smile to go along, don't you think? She certainly looks like a model standing next to Valbuena.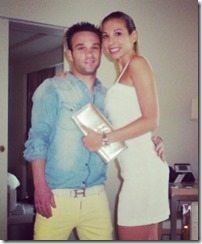 When it comes to her relationship with Mathieu she is very discreet however she cant help to show her enthusiastic self to the performance of her man. She is obviously very proud of the 29 year-old shining during the World Cup held in the country of football and samba.
She is often seen hanging out with his family including the footballer's sister and mother. So at this point the lovebirds are very tight and she is clearly well accepted into the family.
Her guy was first called up by his country for the 2010 FIFA World Cup South Africa. But it hasn't been easy, he had to fight hard to ear the spot, his diminutive 5'5 frame having provoked a rejection from Bordeaux's academy in his youth. Ironically, his size was eventually a factor in his unusual style of play, also earning him the nickname Le Petit when former OM coach Eric Gerets offered him a chance of top-level football.
And more importantly for Fanny's man, if he continues to impress in Brazil, the £6.3million midfielder would be a fantastic signing for any top club in England this summer.
On November 4, 2015 fellow international Karim Benzema was arrested in connection of an alleged plot to blackmail Valbuena over a tape. Karim was detained for questioning. The invention into the  blackmail plot was opened in July when Liverpool striker Djibril Cisse was interviewed and later released.
Related  Stories: Karim Benzema Girlfriend Sarah Williams
Karim Benzema's Girlfriend Analicia Chaves
Karim came to the attention of police investigating the alleged blackmail after he mentioned the tape during a gathering of the French national team at Clairefontaine before Les Bleus met Armenia and Denmark.
You can check out Fanny Lafon on Facebook here.