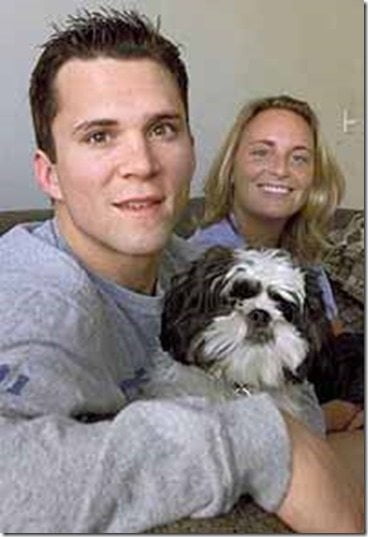 Heather Anne Caragol 38, is the lovely wife of New York Rangers, Right Wing Martin St. Louis. The 38-year-old has been married since 2000.
Heather met her husband of 14-years at the University of Vermont. They graduated in 1997 and tied the knot on July 15. Heather Caragol St. Louis '97, an accounting major from Connecticut who met her future husband over the summer between their junior and senior years, during an interview she said he never saw Martin's confidence falter as he climbed through the professional hockey ranks.
"When he went from Cleveland to the Calgary organization, he took a pay cut. But he was willing to do that in hopes it would increase his chances," "He just knew that if he was presented with an opportunity, he could make it."
Heather and Martin are also parents to three children, three sons. She is the proud mother to: Ryan, born June 13, 2003; Lucas, born March 30, 2005; and last we have Mason, born in2008.
The family often travels to Heather's hometown in Greenwich, Connecticut; where they have an off-season home. She is also seen in the nearby community of Stamford where her man runs an annual summer hockey camp for young players in the region.
her hubby began with the Calgary Flames in 1998. St. Louis played for the Tampa Bay Lightning from 2000 until being traded to the Rangers in 2014, and was a member of the Tampa Bay Lightning 2004 Stanley Cup championship team. St. Louis has also played for HC Lausanne of the Swiss National League A. Internationally he played with Team Canada on few occasions.
The former member of the team that won the 2004 World Cup of Hockey, also played in the 2006 Winter Olympics. His awards and achievements include a two-time silver medalist at the World Championships and was named a tournament all-star after leading the 2009 event in scoring with 15 points. Earlier this year, at the 2014 Olympics, in Russia, he won the gold medal with Team Canada.
It is a bittersweet moment for her husband who lost his mother earlier this month. Despite this fact, he played against the Montreal Canadiens and St Louis started the scoring in the New York Rangers' 7-2 victory over the Canadiens on Saturday, in Game 1 of the Eastern Conference finals.