Meet Hector Lombard
Hector Lombard is the boyfriend of Canadian MMA fighter Valerie Letourneau. His 32-year-old gal will face Joanna Jedrzejczyk in the upcoming UFC 193 tonight in Australia!
Valerie Letourneau, who is known also for her nickname "Trouble" said of her opponent 'she iss an awesome fighter, very exciting to watch."
Valerie is the first and only pro female MMA fighter from Quebec. She is the first woman to fight in Nova Scotia, Ontario and Quebec.
Valerie who used to be a trainer before getting into active fighting, has been a pro since 2007. She began kickboxing at the age of 15. Her training routine includes a mix of conditioning, Muay Thai, wrestling and jiu jitsu 2-3 times a day, according to her UFC profile.
Valerie is a well respected fighter but her man, Hector "SHOWEATHER " Lombard, is also a fearful champion. Read more about him.
Born February 2, 1978 in Cuba, Hector Miguel Lombard Pedrosa is the former Bellator Middleweight Champion and CFC Middleweight Champ. The 37-year-old competes in the Welterweight division in the UFC.
According to UFC.com Hector Lombard has always been interested in the sport. In 2000 he competed in Olympic Judo out of Cuba. Before going pro in 2004 he worked in Security and construction. He is a Black belt in Judo and Brazilian Jiu-Jitsu.
He's had only four losses in over thirty professional fights.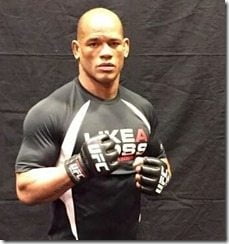 Thought Hector Lombard will be supporting his gal from the stands, is a bitter moment for the couple. Hector Lombard was supposed to corner for Valerie but he is currently suspended by the Nevada State Athletic Commission for a positive steroid test, so he will no longer do the job.
Lombard was suspended by the Nevada State Athletic Commission in March when a post-fight drug test at UFC 182 revealed the presence of desoxymethyltestosterone, a designer steroid. He claimed the positive test was caused by a supplement given to him by a person in his "inner circle" and apologized to the UFC and commission.
Despite Lombard's previous suspension, Letourneau vigorously defended the UFC welterweight as a teammate, coach and a friend.
She said ahead of UFC 193: "My training was at the gym, and the only thing that hurts us is that Hector has been such a big part of my improvement in my career in the past two, three years, that I just feel it's disgusting for him not being able to be there."
Valerie and Hector Lombard have been dating for the past two-years. Valerie has one daughter from a previous relationship.
You can find Hector Lombard on Instagram here, Twitter here.