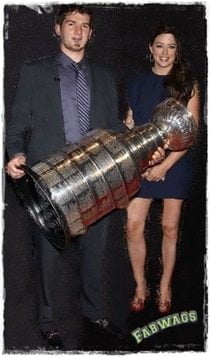 Los Angeles Kings are ready to win the Stanley Cup this year and their goaltender Jonathan Quick is ready to block all of their contenders best shots, I bet his lovely wife Jaclyn Quick will be with the rest of the L.A Kings Wags supporting their men.
6'1" Jonathan Quick from Milford, Connecticut was selected by the Kings with the 72nd overall pick of the 2005 NHL Draft, and made his NHL debut in December, 2008. Jonathan's Wife Jaclyn is one of he four children of a former NHL player.
27-year-old Jaclyn Quick was born Jaclyn Mychal Backman on April 24, 1987; she is the daughter of former New York Rangers Mike Backman, 59, and his wife Toni Backman (nee. Maitland),
who are also the proud parents of Brett a  hockey player at Greenwich High School, Sean Backman, 28, also a hockey player with the NY Islanders and Alicia Marie.
Who met her husband of almost four year this July 3, Matt Moulson through her brother in-law Jonathan, Moulson and Quick met in 2008 at the Kings training camp.
Jaclyn graduated from Greenwich High School in 2005, she then attended Merrimack College where she played field hockey, Jaclyn met her husband through her brother Sean who had been friend with Quick ever since they were nine years old. Both Jaclyn and Jonathan were in College when they started dating, certainly he asked Sean first.
"He called my brother up one day and asked for his permission to ask me on a date. Next thing I know I have my mom calling me, my sister calling me, asking why Quickie is asking Sean for his permission to date me," said Jaclyn. "Jonathan was always like a brother to me, I didn't know why he was either."
Jaclyn Backman became the new Mrs. Jaclyn Quick in 2009, and a first time momma to her precious little girl  Madison Mychal Quick, born on March 12, 2010 and then  on April 9, 2013 to her gorgeous baby boy Carter