Meet Jarrod Haschert
Jarrod Haschert is the lucky guy who will be attending one special night with non other than, 28-year-old UFC star champ Ronda Rousey! Reports say the UFC fighter accepted Jarrod's invite to join him at the Marine Corps Ball!
Jarrod is certainly a brave man, not only for being a member of the Marines but also because he asked Ronda to be her date! Jarrod bravely put a video together to ask the important question, the result? The video viewed more than 4 million times was surely worth it.
Ronda –the first and current UFC Women's Bantamweight Champion –was moved by Jarrod's footage. While out in L.A. on Tuesday, she told TMZ, she wasn't just impressed with Jarrod Haschert's video … but she thinks he's cute too.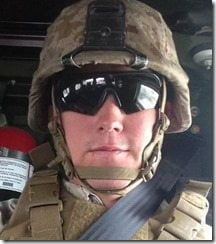 Reports say, Jarrod is a New Jersey native. With nothing more than a hope, the 22-year-old expressed in his video request there would be no one else he rather go to the ball, and was so considerate he told Ronda he hoped the ball's date (December 11th) wouldn't interfere with her training for her upcoming fight.
It appears Jarrod's prayers were heard and all stars in heaven aligned as Ronda's fight date was moved to November (originally scheduled for January) making her available to attend Jarrod's ball in December!
Jarrod is currently based in North Carolina. He attended Sterling High School in Somerdale, New Jersey, right after graduation he entered the Marine Corps and went through boot camp graduating in 2013.
He told a local North Carolina news station, about his admiration for Ronda:
Ronda is by far the coolest chick I've ever seen. I've been watching her fights since I was in high school and every fight is more exciting than the last. As I said in the video she is absolutely my 'celebrity crush' and I just kept thinking, it's worth a try.
His Facebook account is found under "Jarrod Hash" however there is another FB account that states he's been married since January 16, 2012! Anyways, we can't help to be happy for him and hope his wife? agrees with the whole charade!
You can also find him on Twitter here.