James Feigen
James Feigen, the 26-year-old Olympic swimmer may have won a gold medal in Rio but that doesn't mean it's been all fun. Feigen along with three other members of the US swimming team said they had been robbed at gunpoint while cruising in a taxi in Rio.
James Feigen is a two time Olympian and world championship medalist, who snagged a gold medal in Rio for the 4×100-meter freestyle relay.
As a result of the alleged robbery, he has been ordered by a judge to remain in the South American country. Accoridng to Brazilian authorities, James Feigen's and his teammate's robbery story, is a little shady. They say their account does not square with CCTV recordings.
For that reason, police investigating the case have said Feigen and the others (including swimmer Ryan Lochte) present some inconsistencies in their testimony. A judge issued an order to seize the passports of Feigen and Lochte.
James who also goes by Jimmy, was born September 26, 1989 in Hawaii. He attended Winston Churchill High School in San Antonio, Texas where he swam for the Churchill Chargers high school swim team.
During his four years at the University of Texas at Austin, he received seventeen All-American honors, and won NCAA national championships in the 50-yard freestyle, 100-yard freestyle, and 4×100-yard freestyle relay events in 2012.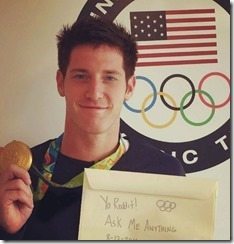 Accoridng to his bio on Swim Swam, he competes in sprint freestyle events. He won a silver medal as a member of the U.S. team in the 4×100-meter freestyle relay at the 2012 Summer Olympic Games in London.
At the 2013 U.S. National Championships, Feigen qualified to swim at the 2013 World Aquatics Championships in Barcelona, Spain by placing second in the 100-meter freestyle to Nathan Adrian (48.10) with a time of 48.24 seconds.
In his first event at the World Championships, he advanced to the 100-meter freestyle final as the second seed by posting a time of 48.07 seconds in the semifinals, and he held onto his position for the silver by posting a personal best time of 47.82 seconds in the final.
As for his personal life, he is the third child born to parents, Mike and Beth Feigen. Both of his parents are physicians. His father was in the rowing team at Pennsylvania. He has two older sisters, Annie –who attended Trinity University. And Lynn –who attended UT-Austin.
Is not clear if he is currently in a romantic relationship.
You can find him on Twitter here.