Jennifer Peralta
Jennifer Peralta is no sports Wag, but that won't stop us from writing about the stunning girlfriend of Eddy Rivero. Mr. Rivero was one of the three people who died alongside friends Emilio Macias and Miami Marlins' pitcher Jose Fernandez in a boating accident on Sunday September 25 in Miami.
Jenni, like Jose Fernandez's girlfriend Carla Menzona is mourning over the tragic death of their beloved boyfriends. Jose Fernandez was a famous and  talented MLB pitcher, the lives of his friends Eddy and Emilio are equally valuable. These two incredible young men were kind, hard workers, they brought joy and laughter to everyone.
On Sunday, Fabwags reported the story of Carla Mendoza, the beautiful girlfriend of Jose Fernandez, whose pregnancy was publicly shared by the young Cuban pitcher a few days before his death. Now we meet Jen Peralta, the gorgeous girlfriend of Eddy Rivera.
But before we talk about her, we need to tell you a few things about her Eddy and his friend Emilio.
Emilio and Eddy
In the first place we have Emilio Macias, a handsome 27-year-old man who graduated from Braddock Senior High School in 2008, just a year before his close pal Eddy did. He then graduated from Florida International University in 2013. He started a job as a personal banker at Wells Fargo Bank in December, 2010.
Later in  2012, became investment Advisor/Wealth Management at Wells Fargo Advisors, LLC.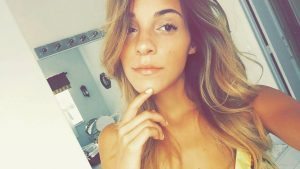 Uniquely, funny and the sweetest was Eduardo "Eddy" Rivera a Miami resident was three weeks shy of his 25th birthday; he graduated from Braddock Senior High School in 2009 he started working for Carnival Cruise Lines this year.
Eddy and his girlfriend Jennifer Peralta a New York native currently living in Miami, Florida. Jen Peralta is a nursing student with a bachelor's degree from West Coast University. Ms. Peralta a single mother of her adorable daughter Sofia has posted several touching messages to her beloved Eddy.
Our thoughts and prayers go out to  their families during this time of sorrow
Eddy's Gofundmepage is here and Emilio's here