Terry Madden
Terry Madden is the boyfriend of professional race car driver, fabricator and TV personality Jessi Combs -who tragically died in high speed crash.
Terry's girlfriend was often reffered to as "the fastest woman on four wheels." The MythBusters star, a native of Rapid City, South Dakota, was killed while attempting a land speed record in a jet-powered vehicle in Oregon on August 27. She was 39-years-old.
Combs was known for competing in renowned off-road events such as the Baja 1000 and the King of the Hammers. In addition, Combs has competed at the Rallye des Gazelle, the only off-road all-female race. In 2016, Combs won first place in the King of the Hammers while with the Savvy Off-Road Team.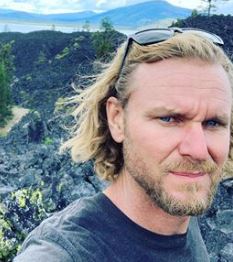 Terry who was dating Combs, confirmed her death on social media and posted a video as a tribute to his late girlfriend. He captioned it "So I don't know how to say any of this but it all needs said," he began. "I have never loved or been loved by anyone as much as this amazing woman she was truly my unicorn and I enjoyed every single minute that I had with her. She was the most amazing spirit that I have ever or will ever know."
Terry L. Madden is a member of Jessi Comb's team. He is a former driver who according a profile served as Co Driver for last 4 Seasons for Levi Shirley for Ultra 4, Ultra 4 Europe, and Dirt Riot. Prior to the North American Eagle racing team, Terry Madden was a member of the Campbell Racing team -one of the most successful families in off-road racing.
Terry was also featured on Drivingline -for his talent on chase trucks. According to the article, Terry ' transformed a simple tow-rig to a workhorse chase truck' It goes on to say Terry's truck even has an extension for a roof rack, which supports a high-end roof-top tent made by James Baroud, for those times they have to spend the night in the middle of nowhere waiting for their race car to arrive.
He also installed a BDS 4-inch suspension system to keep the loads leveled and provide some extra clearance.
Terry Madden is the father of a son, Dalton -from another relationship. Find him on Instagram here.