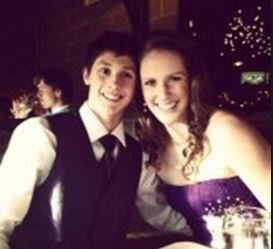 Missy Franklin and her boyfriend, John Martens are so into each other that during the U.S. Olympic swim trials you could not see each other separate at any time.
John Martens competes 400-meter freestyle. When Missy Franklin introduces her boyfriend, it always comes with a description:
John Martens is a swimmer too. He got a scholarship to Texas. And he will be at the U.S. Olympic trials at the CenturyLink Center — not as a fan but as a competitor.
She is dating his fellow swimmer John for about a year ago and constantly practice at the same pool.
Martens said.
We try to support each other. If we had a bad practice or a bad meet we try to bring each other back up, to tell each other to focus. It's only one bad day. You can work through it. Just that type of positive attitude.
Martens was hoping to make the 2012 Olympic team but did not meet the requirements.
Missy and John met since their swimming groups used to swim one right after the other..
John was born in July 8, 1994 in Honolulu, Hawaii. His mum is Jennifer Martens and he has two sisters: Olivia (21) and Victoria (20), His major is civil engineering. He went to Grandview Highschool in his hometown, Aurora, Colorado.
I can not tell whether the couple will make this relationship long-term but surprises happen and whereas they are young, they both share the same passion and that is a huge connection bridge among the two. We also wish the best of lucks to Martens so he can prepare himself for the next Olympics! We are sure we will cheer him too!
John's site here.