Meet Klaus Abbelen
Klaus Abbelen is the husband of female motor racing driver and TV personality, Sabine Schmitz. Klaus Abbelen is also a race car driver and a meat entrepreneur.
Klaus Abbelen wife is definitely a versatile woman. Sabine was born May 14, 1969; into a hotel and restaurant owning family. She is one of three sisters who began racing but only she has been successful. Sabine is also a graduate in hotel and catering business and Sommelière. Schmitz can also drive a helicopter and takes care of her own horses.
Sabine was previously married to a hotelier. At the time, known as Sabine Reck. She divorced in 2000 and opened her own restaurant-bar. The blonde is mostly known for driving the BMW "Ring taxi" around the Nürburgring race track. Her expertise on the track earned her the nickname "Queen of the Nürburgring".
Her popularity quickly made her an occasional motorsport guest commentator. She also was a TV Presenter for the German version of Top Gear.
The professional German motor racing driver for BMW and Porsche, previously appeared on Top Gear in 2004, when she beat Clarkson in a race.
Klaus Abbelen was born September 15, 1960 in Tönisvorst, Germany. Klaus Abbelen also runs the eponymous food company "Abbelen", where he got is Nickname "Frikadelli" (Meatball) from. He is heir to a meatball fortune. Abbelen Meat Products, is a processing company established by his father that manufactures 1000 tons of meatballs per week.
In 2005 Klaus being a driving amateur decided to found his own motorsport racing team. so Frikadelli Racing Team was born. According to his website, all cars of Frikadelli Racing driving have a picture of a big meatball on the side through the "Green ."
Sabine Schmitz is also a integral part of Frikadelli Racing. In 2006 the couple drove the #97 Porsche 997 in the Nürburgring VLN endurance racing series, entered by Land Motorsport. They finished third in the 24h 2008, beaten only by the factory-backed Manthey-entered winners of 2007 and 2006.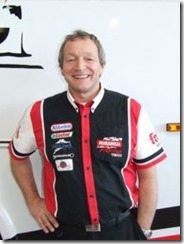 In 2010 Frikadelli got very well prepared and did the final step from a amateur team to a professional motor sport team. At Barweiler, located directly at the Nuerburgring they built a 1800 square meter big hall which is now the headquarter for Klaus Abbelen and his team.
The race car driver and businessman also enjoys tennis and horseback riding.
You can find Klaus Abbelen on Facebook here.