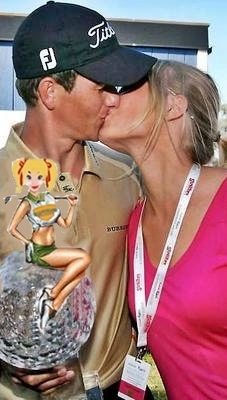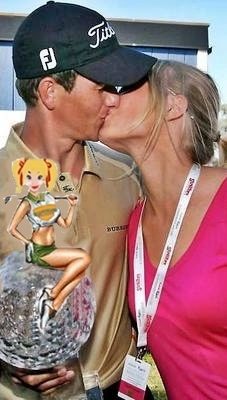 Do you know who is the current girlfriend of  the Australian golfer Adam Scott? We heard he is no longer dating that hot tennis player he dated for years, but some Swedish blonde, Marie who? Adam Scott's girlfriend? He said, "Marie." So who is this "Marie," you ask? The answer appears to be Marie Kojzar, a 33-year-old Swedish architect; and this is what Fabwags can tell you about this pretty PGA tour WAG.
Of course, Scott has had more publicized relationships with actress Kate Hudson and tennis player Ana Ivanovic in recent years. Scott met Kojzar while she was working as an au pair for Thomas Bjorn.
Hmm. A blonde Swedish nanny working for a prof golfer? No kidding??? a little Elin Nordegren/ Tiger Woods deja-vu? hopefully with a happy ending.
Scott became the first Australian to win the Masters, rising the appeal after his conquest. Scott's fame rose after a "Bachelor" producer suggest on Twitter that Scott would make a great "Bachelor." Ahahah but couldn't be possible cuz Scott has a girlfriend.
Scott said, I'm not single at all. I am very much in a relationship and very happy at the moment.
"Marie" is a Swedish architect that has dated Scott off and on since 2001. Scott explained his girlfriend Marie,
My girlfriend is a really ambitious person…She hasn't been going to school all these years to not put that knowledge to use.
I got to think this will end in marriage. Adam had his entertaining with the Hollywood multitude but he's gone back to the girl he wants and that is Kojzar.
Marie Kojzar biographic facts:
Interior designer Marie Kozjar was born in 1989 in Stockholm, Sweden, she studied at Kungsholmens Gymnasium School in Stockholm before heading to the Royal College of Arts in London, from 2008 until July, 2009 she was an architectural assistant at Alison Brooks Architects Ltd, she had been an architectural assistant with Strategisk Arkitektur since October, 2011 until this day.
Scott and Marie Kojzar met in 2001, at first dated on and off for about seven years before breaking up in 2008. The golfer admitted that this incident hindered his routine.
It definitely had an effect on my golf and my head was elsewhere, my practice was down.  It was a tough time, but that's life.
Marie Kojzar a year younger than Adam Scot rekindled their relationship this year.
Scott repeatedly received underwear in the mail from his fans. Scott, though, admitted that he is not concerned that Kojzar will become jealous.
We just heard Adam and Marie are husband and Wife!!! According to reports Marie Kojzar became  Marie Kojzar Scott on April 17, the love birds got married in a low key, secret ceremony in Las Bahamas.
"It's official. I am a settled down man and very happy," Scott revealed to Aussie golf writer Ben Everill Friday. "We just decided to get on with it, we've known each other long enough, let's go and jump right in the deep end.

"It was just our family and a few friends and obviously there are a lot of people we would have liked to have had there who weren't, but we decided to have a very low key affair.
Check Marie Kojzar on Facebook here