Marlene Knaus
Meet Marlene Knaus once known as Marlene Lauda, she is the ex-wife of the F1 legendary racer Niki Lauda, Marlene is the mother of Lauda's eldest son Mathias and Lukas.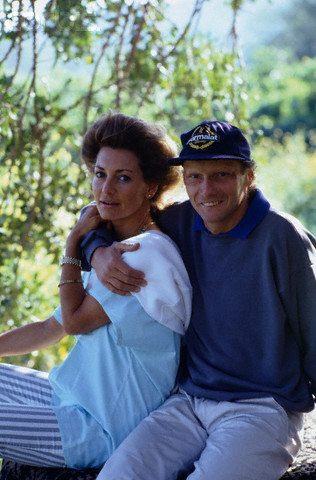 Lauda and Marlene got married in 1976, and they had two sons together Mathias born on January 30, 1981, and Lukas, Mathias follows his father's steps and became a car racer, while Lukas stays away from the wheel but close since he is Mathias' manager.
Marlene's famous ex-hubby got married again and added more children to the family, but he is still in touch with Marlene, whom he divorced in 1991.
He adds:
Yes, very much so. She is part of our life. We have a house in Ibiza. She lives there. My old family and new family often get together. We went to a restaurant the other day, Marlene, Birgit and myself. She is an outstanding woman. When everyone is happy she is happy. We got divorced but we are still friends. Nothing has changed. What is more, Birgit is her friend too.
Marlene was very popular back in the old days among the socialite from Europe. You could be able to see her in all high-end magazines and she was considered a fashion icon, an "it girl".
She was seen a glam lady and apparently no jet lag could get her! Whilst her ex was wearing a Good Gear cap and an overburned suntan, she looked classy in a trench coat and a footloose hairdo.
She certainly has been a Cosmo girl! I see her pics now and I would definitely wear all the vintage look, so retro and exquisite for nowadays!