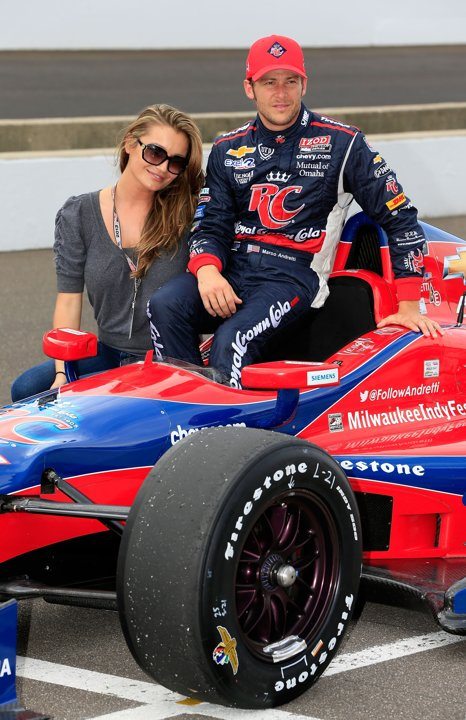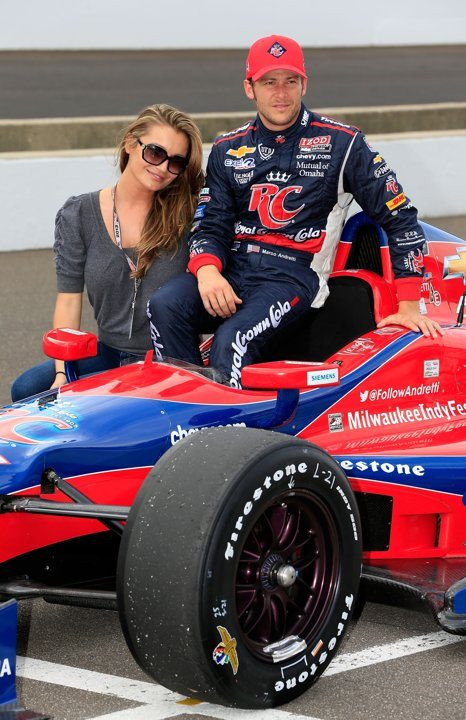 Formula One Driver Marco Andretti is not single ladies his girlfriend is Marta Krupa, a television personality/singer whom he met while living in Miami in 2008. Her last name ring any bells? that is because her sister is Joanna Krupa.
He said:
We've been together for over a year, which to me is like 10 years. I still have three championships and Indy to win before (focusing on marriage), but I wouldn't be in a relationship for a year if I didn't think it had a future.

It's funny, I'm like a 50-year-old man. I come home to Marta and the dogs.
Her sister and her are well known for their beauty. People follow them everywhere. Marta Krupa and her sister Joanna attended The 9th Annual Lupus LA Hollywood Bag Ladies Luncheon at the Beverly WilshireFour Seasons Hotel in Beverly Hills, California, and the Maxim Party at The Raleigh in Miami, Florida. They were also spotted attending TheReveal of the What Is in Los Angeles California at The Beverly. A list celebrated by Victoria's Secret Bombshells.
The world was able to see the raise of the Krupa Sisters – Marta and her sister Joanna together shoots many magazine covers such as Ralph, ENVY, FHM, Lifestyle and a bunch of campaigns.
Joe Francis founder of Girls Gone Wild Entertainment, tells he slept with Joanna And Marta Krupa from the Real Housewives of Miami….mmm do you think this as true?
laundry from her:
Joanna Krupa's fiance Romain Zago recently Romain took to his twitter to call out Joanna's sister Marta Krupa for trying to destroy his relationship with Joanna. He wrote,
Hey FRIENDS, seems @MartaKrupa wants to […]
Marta Krupa's Bio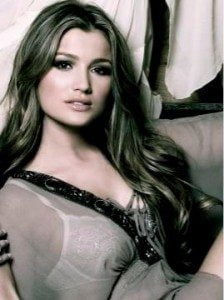 She was born in Chicago Illinois on May 10, 1986. She is 27 and Taurus. Her dad is Steven Kruppa. Her professional life has been hectic as Singer, Model, Actress, Tv personality, Presenter, Fashion Designer, Humanitarian, and Animal Activist.
Visit her twitter here.