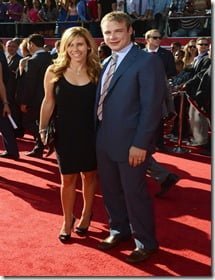 A struck of luck or not L.A Kings won last nights game and Captain Dustin Brown slumped in front of his locker and contemplated the final minutes of Game 2 with the same bewildered wonder felt by all those joyous Kings fans streaming out of Staples Center.
I wonder what wife Nicole thoughts on the game were; after all the couple's relationship stretches back to their teenage days and the thing that bonded them, not surprisingly, was hockey. It still does. Nicole will be the first to chirp that she, not her husband, is the only championship hockey player (from back when she used to play), while he'll tell you that she was a defenseman in name only and played more like a rover back in soccer than a shutdown defender.
Both Nicole and Dustin are from Ithaca, New York, where they first met at a hockey tournament in their home state. The two were just 15 years old at the time, but have stayed together since, surviving various stints with Dustin playing in the OHL, the AHL and the NHL. The couple currently has three children, Jacob, Mason, and Cooper. The youngest, Cooper, was born right before the Kings 2011 playoff run which lead to Nicole having to take care of a lot of the parenting responsibilities for the first few months. In an interview with the King's website on NHL.com Nicole described the sleeping arrangements during that hectic period.
"I had to move into the guest bedroom with the baby so that Dustin could sleep through the night and not be woken up. It was hard not having help in those first few months."
Nicole and hubby are really into charity and are heavily involved. They continue to demonstrate a commitment to their community and to children. They are very active with the Los Angeles Child Abuse Prevention Center, and also hosted a golf tournament in April of 2012.
"As a parent, we're so grateful to have three healthy children. It's so upsetting to see sick kids, so we try to do our part to take away the pain if only for a short time,"
Brown and his wife, Nicole, established the Dustin and Nicole Brown Charitable Fund to improve the quality of life for disadvantaged youth and their families in both Los Angeles and the Brown's hometown of Ithaca, NY.
They also launched with KaBOOM!, a non-profit organization that envisions a great place to play within walking distance of every child in America.  Brown's per-hit donation plan raised $70,000 to build a new playground in Carson, CA, that now hosts more than 100 kids per day.
They really are an active duo, they live with their children in Manhattan Beach, California and their golden doodle named Milo.