Nicole Willett
Nicole Willett is the loving and beautiful wife of English PGA golfer Danny Willett who became the second english golfer after Nick Faldo to win the 2016 Masters in Augusta, Georgia.Nicole Willett his wife since 2013, couldn't be by his because she recently gave birth to their first born, but she watched him from their home.
Nicole Willett's husband Danny willett was born in Sheffield, England on October 3, 1987 to vicar Steve Willett and math teacher Elisabeth Willett. Danny was 20 an amateur golfer when he won the 2007 Walker Cup at Royal County Down, just a year later he became pro, earning his European Tour card in 2009.
Willett ranked 23rd on the Order of Merit in 2010. Two years later he won the 2012 BMW International Open in Cologne, finished third at the 2015 WGC- Cadillac Match Play that gave him a special temporary PGA tour membership. He won his third European Tour title at the Omega European Masters, and became the owner of the prestigious Green Jacket in Augusta, when he won the 2016 Masters.
Nicole Willett's Bio.-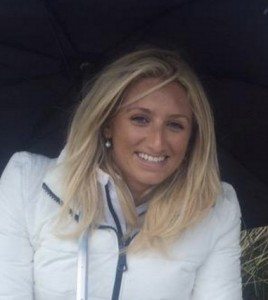 Danny Willett's wife is his constant companion, she caddied for him at last's year Masters, but she had to stay home in Sheffield looking after their adorable baby son. Nicole Willett was born Nicole Harris in Rotherham, England, she dated Danny for a couple of years before he proposed in June, 2012 just after he won the BMW International Open on June 24, 2012, they got married on April 26, 2013.
Nicole and Danny announced they were expecting their first child together last September, her due date was April, 10 coincidentally the same day the final day of the Masters, for Danny the decision was a no brainer, he would not participate in the Masters if Nicole hadn't given birth prior to the Masters, but Nicole had a schedule c-section on March 29, 2016, by March 30 Danny, Nicole and baby son Zachariah James Willett joined their dear pug pet Spike at home.
Follow Nicole Willett on Twitter here