Charlotte Kjeldsen
Charlotte Kjeldsen is the PGA Wag and wife of Danish golfer Soren Kjeldsen who has been playing on the European Tour since 1998, Charlotte and Soren proud parents of three gorgeous children have been married for over 15 years. This is what FabWags can tell you about her.
Charlotte Kjeldsen's husband Soren was born May 17, 1975 in Aalborg, Denmark, he was 20 when he turned pro in 1995, two years later he won the Volvo Finnish Open and earned his spot for the European Tour. Charlotte Kjeldsen's hubby is the 2003 Diageo Championship at Gleneagles, the 2008 Volvo Masters in Spain, 2009 Open de Andalucia in Marbella, placed third at the BMW PGA Championship that same year; second at the 2010 Andalucía Masters and the 2011 Volvo China Open. Soren finished second at the Open de España, 5th at the Scottish Open in 2012. Soren Kjeldsen won his fourth European Tour title at the Dubai Duty Free Irish Open in May, 2015.
Ready to meet Mrs. Kjeldsen?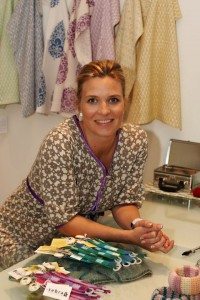 Charlotte Kjeldsen was born and raised in Bronderslev, Denmark, she met her husband in high school they both attended at the Brønderslev Gymnasium og HF and dated for almost 10 years until she married Soren on November 25, 2000. After their wedding she became his traveling companion.
Before that, Charlotte attended at the College of Craft and Design and the Seminarium for håndværk og design i Nørresundby, but she left all behind to become a wife and the mother to two handsome boys and one beautiful daughter, first came Mads born in 2006, then second son Emil in 2003 and little girl Karla Panum was born September 11, 2011. Charlotte Kjeldsen founded Roots Living, the UK based company that imports fine products from Denmark and Scandinavia.
Kjeldsen represented Denmark in the Eisenhower Trophy in 1994 and at the World Cup in 1998, 1999, 2003 and 2004.