Meet Noelle Boney
Noelle Boney is the lovely girlfriend of 22-year-old snowboarding Olympic gold medalist, Sage Kotsenburg. Her boyfriend, currently at the Winter X Games will be participating tomorrow in the slopestyle finals! Her man is branded as Slopestyle genius.
According to worldsnowboardtour, the Park City resident has been riding since he was five-years-old with one of his two older brothers. Making his debut at the WST 6Star Burton US Open at 12 years old, the freestyle snowboarding world watched on as Sage grew into his own, making waves in 2010 when his professional snowboarding career began.
He is the son of Carol Ann and Steve Kotsenburg. Though Sage was born in Idaho, he and his three other siblings, including his younger sister, were raised in Utah.
Sage who was homeschooled and graduated in 2011, that same year he landed the first Cab Double 14 in snowboarding contest history at the premier WST Air+Style Innsbruck.
Following a string of achievements, he toped it all of in 2014 by taking home the first ever gold medal at the Olympic debut of Slopestyle competition at Sochi.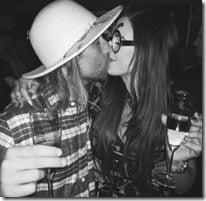 When Sage Kotsenburg is not doing what he does best, he also enjoys skating, surfing, gaming and of course spending time with the pretty Noelle Boney.
Gorgeous Noelle Boney is also quite the pro at what she does. 23-year-old Noelle Boney is a professional ballerina currently based in L.A.
In April 2015, Noelle Boney joined the staff at Cardio Barre in downtown Los Angeles. According to the Facebook page of Cardio Barre, Noelle Boney brings 14 years of classical ballet dance training to the classroom. She is a burst of energy and will lead you to shaping your inner dancer's body. According to online sources, she is also an actress, ballerina, dancer & model. Her acting credits include, Ballon The Film.
The couple splits their time between Utah and Los Angeles where Boney works.
You can find Noelle Boney on Instagram here.