Rachael Cordingley
Rachael Cordingley must be feeling pretty proud of her boxer boyfriend Carl Froch known as :The Cobra" who won an epic fight against Mikkel Kessler at the O2 Arena in London, England!!
35-year-old Carl Froch the IBF and WBA super-middleweight champion, and former two-time WBC super-middleweight champion  has been dating glamour model Rachael Cordingley  for quite some time, last year the happy couple announced Rachael was expecting their first child together.
26-year-old  Rachael Cordingley from Liverpool was born on July 20, 1986, she has been modeling since she was 19, something that she didn't think she would be doing when she was a tomboy girl who was all into sports, as a matter of fact she still is into sports swimming, running you name it she likes them all.
"When I was growing up I was more of a tomboy and in to my sports, and it was never on my mind to get married or have children, so all of my family were surprised when I announced I was expecting Rocco, as they never thought I would be the first to have a baby! But when you find that right person, then everything just clicks into place."
Sure thing, Rachael Cordingley and The Cobra met  in 2009 thru  a friend of Rachael in London, once  they saw each other, they became inseparable. They have two gorgeous children together son Rocco who will turn three next month, and their baby daughter Natalia, two months old.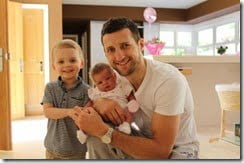 When Rocco was born, Rachael took a break from modeling, but as soon as he turned two she got back in shape and resume with her modeling career, Cordingley got to the finals at the Miss Great Britain competition before winning the Miss Maxim UK title, eventually earning the title of Miss Maxim Global winner, this busy momma is not just a model, she  has a 2-page column In Maxim and works with the Daily Star.
Follow Rachael Cordingley on Twitter here and find her on Facebook here.