Sonnie Brand
Sonnie Brand is the lovely wife of Team USA gold-medal diver David Boudia. She and her hubby –who is currently competing in Rio de Janeiro –have been married for four years.
David Boudia is an Olympic champion, a gold-medalist at the 2012 London Olympics and winner of multiple world championship medals. Winner of six NCAA national titles at Purdue University and winner of five medals in the 2012 FINA Diving World Series, Boudia was the first American male since 1986 to medal in the 10m platform at a world championship.
Sonnie's hubby is also the author of "Greater than Gold" –where he talks about how he built his entire life around a single purpose: winning an Olympic medal for Team USA. After learing the Beijing games empty-handed, his whole world was shaken…But four years later, a different Boudia emerged on the diving platform. This time, he set himself aside, his radical commitment to God now fueling his desire for glory. And he earned a spot on the Olympic podium–twice.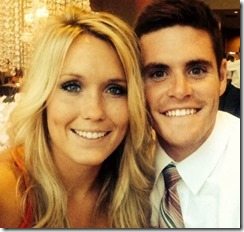 So are you ready to meet the woman lucky to be called his wife? She is Sonnie Brand. The blonde beauty is a dietician. She and her hubby have worked together an eating plan that works for the athlete. You check her LinkedIn page here.
Being the wife of an Olympian is not exactly a walk in the park, Sonnie Brand however, has already mastered some serious Olympian wife skills.
Since their dating days, Sonnie Brand has learned to being by his side helping him manage the rush by holding his medals, and taking part in the duties of mingling. Now that they are married, things have definitely gotten better. Their time together is not limited to his training schedule anymore. She still needs to remember during training season, David need his sleep though.
Sonnie Brand met her husband while attending Purdue University. She and David became husband and wife in October 2012. Two years later, Sonnie Brand and David welcomed their first child, daughter Dakota born in September 2014.
Sonnie Brand and her family reside in West Lafayette, IN. Sonnie took her hubby's name after their nuptials and now goes by Sonnie Boudia. Find the wife and mom on Instagram here.