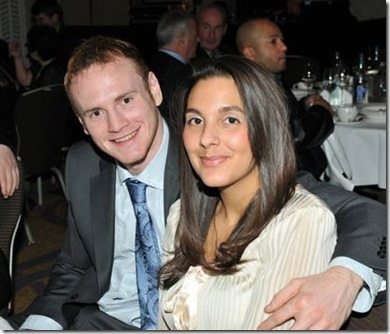 Sophie Groves is the lovely wife of former British and Commonwealth super-middleweight champion, George Groves. Her hubby who has no been seen in the ring since he was emphatically knocked out by Carl Froch at Wembley on May 31st, is not keeping quiet at his upcoming opponent's claims! WBC champion Anthony Dirrell claimed the Saint was not a worthy challenger to his belt.
Her hubby may or may not face Dirrel it all depends of the result on his bout with Frenchman Christopher Rebrasse in his comeback fight this Saturday; although he seamed to be very confident saying:
'I'm not taking my eyes off Saturday but Dirrell seems very animated saying I don't deserve it.

'The most important bit of news regarding Dirrell is that, once I win this fight, I have confirmation that my next fight will be against him.
We are sure if her man has this level of confidence she has nothing to worry about.
The couple actually has a pretty sweet story. Groves meet Shphie when he was just 4-5 year old. His mum use to take him to this "Sands End playgroup" where Sopie and groves meet and they became best friends. Grew up together and now they are husband and wife. To melt your heart!
He belongs to a working-class (middle-class) family and was brought up in the neighbourhood of Field Road, Fulham in london (now called hammersmith). His father Donny Groves was also an amateur boxer but never made it to the professional ranks while his mum Yvonne worked at stores like Decca Records and Playboy in king cross.
Groves went to Sheen International, a local comprehensive school in London and he was pretty bright in studies specially maths.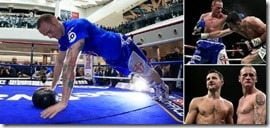 Her hubby has always had star potential. A former child kickboxer, Groves was a regular on Eurosport broadcasts at age 13. He won four world junior titles and an EKU title live on television. Claiming he was 'shy' as a youth, Groves quickly snapped out of this fear of the limelight as superstardom loomed.
Groves had a long and success partnership with one of the best British trainers in Adam Booth. Although recently they have parted ways and went on to legal battles but Booth still have good memories of early years of groves. Groves traveled  a lot with Booth and David Haye when he was fighting and he got so much experience of being around all the high profile fights of David Haye.Now a days Groves and Booth are said to be no longer friends.
Sophie on the other hand seems to avoid the spotlight, nevertheless having known her man since their childhood she is very supportive of him. Not much is found about her and her hubby apparently is even more protective of his family.
We cant wait to see him in the ring! Keep a close eye for the lovely Missus Groves!
Find more pictures here.