Former rugby player, Thom Evans, has confirmed his new relationship: 90210 actress Jessica Lowndes. The couple posed together in a picture and posted it on their respective profiles, their way of telling the world they are finally dating!
Jessica can be seen wrapping her arms around the 27-year-old's neck as he scolds at the camera. Thom wrote: "My little buddy :)." But the couple certainly looks way closer than just friends.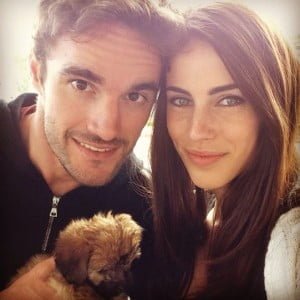 Thom Evans previously split from long term girlfriend Kelly Brook earlier this year, she is now coincidentally dating Jessica Lowndes' ex Danny Cipriani, who she originally went out with in 2010.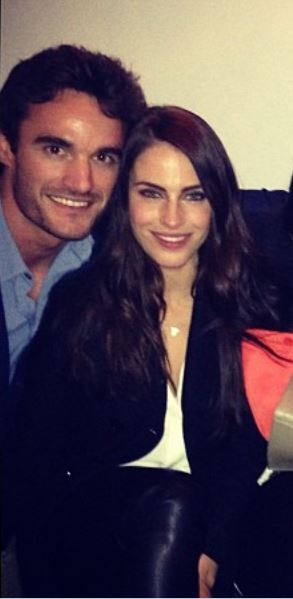 Speaking about a love triangle? This is more like a rectangle!
"It is a bit weird that ­Jessica is Danny's ex, but Thom doesn't have a problem with that. He has been trying to find a woman to take his mind off things. So he's started dating Jessica and says she is one of the nicest girls he's ever met," revealed a source.
Reportedly, Thom and Jessica bonded over their love for working out. Reportedly, the couple met at a Juice bar in California where he asked for her number.
Jessica Lowndes is 24 years old, she is an actress, pop singer, and songwriter. She is best known for her role as Adrianna Tate-Duncan on TV series 90210. She was born on November 8, 1988, in Vancouver, British Columbia, Canada, and attended the Pacific Academy in Surrey.
Jessica Lowndes is of English, Ukrainian and German descent.
She was included on People Magazine's World Most Beautiful People in 2009. BuddyTV ranked her #58 on its TV's 100 Sexiest Women of 2011 list.
Her acting debut was in the 2005 TV movie, Saving Milly. She has also appeared in Masters of Horror, Alice I Think, and has made guest appearances on Kyle X. Her next film role was in the movie To Have and To Hold, released in 2006. In 2008, Jessica appeared in Autopsy and The Haunting of Molly Hartley, along with a recurring role in the drama series Greek. She had also a recurring role in the series 90210 as Adrianna Tate-Duncan. In November 2008, her role was upgraded to series regular. In 2010, Jessica starred the horror movie Altitude.
Jessica Lowndes has been playing the piano since she was five, and writing music since she was nine. Her mom was a piano teacher. She has written 4 known songs: "Never Lonely", "Break", "Fly Away" and "Goodbye".
Follow Jessica on Twitter here. Find her IMDb profile here. Visit Jessica's website here. Jessica Lowndes Network here. Find her on Facebook here. And on Tumblr here.