Wanda Williams
Wanda Williams is the lovely wife of the highly awarded College Basketball coach, Roy Williams; head coach for the North Carolina Tar Heels at the University of North Carolina in Chapel Hill.
Born August 1, 1950, Williams studied at UNC from 1968-1972. He got his coaching start in 1973 at the high school level at Black Mountain Owen High School in his home state of North Carolina. After five years Williams returned to his alma mater – UNC – as an assistant under Dean Smith.
Coaching
In his ten years as Smith's assistant, UNC went 275-61 and won the 1982 NCAA national title. Williams also played a role in recruiting Michael Jordan. In 1988, Williams left the Tar Heels and Coach Smith to take over the Kansas Jayhawks' program.
In his 15 years at the helm of the Jayhawks Williams compiled an overall 418-101 record, averaging 27.8 wins per years. He led Kansas to nine regular-season conference championships and four Final Four appearances, including two national championship games.
He left Kansas to return to UNC as head coach in 2003. Since then Williams has led the Tar Heels to six regular-season conference championships and three Final Four berths, two of which UNC came out as national champions – 2005 and 2009.
Williams' success throughout his career has set him apart from other coaches. He reached 700 wins in fewer seasons than any coach in NCAA history, and his 79.2 winning percentage is the highest of any active coach with 20 or more years as head coach. And he's just one of two in NCAA history – Louisville's Rick Pitino being the other – to have led two different programs to at least three Final Fours each.
Wanda's hubby will be busy in the following years, – in 2011, UNC extended his contract through the 2017-18 season, according to Sporting News.
Following the 2007 season, Williams was inducted into the Basketball Hall of Fame. And that's just one of his many accolades he's received throughout his career. Coach Williams retired on April 1, 2021, assistant coach Hubert Davis replaced him.
Mrs. Williams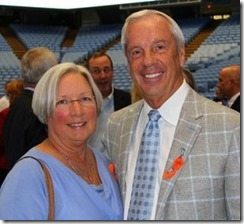 Wanda Williams, a 1972 Carolina graduate, met her hubby while attending UNC at Chapel Hill. Following both of their graduations in 1972, Williams and Wanda got married in 1973.
She is the mother of their two adult children. They have a son, Scott, and a daughter, Kimberly.
Scott Williams earned a business degree from UNC and played point guard on the basketball team in 1997-98 and 1998-99. He and his wife, Katie (Wolford), live in Charlotte, with their sons, Aiden (born in Jan. 2010) and Court (born Aug. 2011). Katie is a 2001 Carolina graduate and former cheerleader. She earned a doctorate in physical therapy from Boston University.
Kimberly Williams is a 2002 Carolina graduate with a degree in English and a former member of the UNC dance team. She lives in Charlotte.
While Williams had a cancer scare over tumors on his kidneys that turned out to be benign in the fall of 2012, Wanda Williams has undergone several surgeries for a chronic medical condition.
Wanda Williams has spent a lot of time working in charity. She and Williams sit on the board of the Carolina Covenant, an organization that works to help make a debt free college education a reality for low-income students.
The Williams' have not only served as co-chairs to a $10,000,000 endowment campaign but have also personally donated more than $200,000 to the foundation.