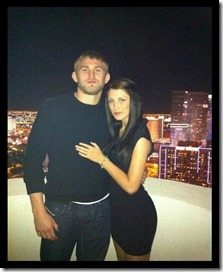 Meet beautiful Amanda Bianchi, she is the lady holding fighter, Alexander Gustafsson's heart. Amanda's hometown is Örebro, Sweden but she currently lives in Stockholm. She was born Amanda Elise Fredrika Bianchi and is the daughter of Daniela Bianchi and has a brother named Adam Bianchi.
We are not quite sure how the couple came to be together or when her breathtaking gray eyes, awesome figure and stunning face caught 26-year-old Gustafsson. They have been together for years now and live under the same roof.
UPDATE!! Alexander is now engaged to this pretty girl MOA!!!!
Amanda and her currently ranked as the #1Light Heavyweight contender in the world according to the UFC enjoy vacationing around the world. Below we can see pictures from their trip to Cancun, Mexico earlier this year. Bianchi seems to go with him all over, smart girl.
What we do know is that she is not only a great energy behind him but also share a common interest for pit bulls! The couple owns at least three of them! Being the great supporter to her MMA fighter boyfriend that she is, Amanda will be a  tour guide to her man's upcoming fight in Toronto.
Bianchi's man who is nicknamed "The Mauler" will face Jon Jones at UFC 165 on Sept. 21 and she will be a tour guide for Kimura.se
The Swedish couple is allegedly engaged but no word on an official date to their wedding has been released. She does get along great with her sister in law though, Bianchi and Alexander's sister Elina Gustafsson are best pals.
Unfortunately, there is not much more we can tell you about her but we can certainly enjoy of her great images!
Best of luck to Amanda's man! Who are you looking for to win??
You can find gorgeous Amanda on Facebook here and Twitter here.