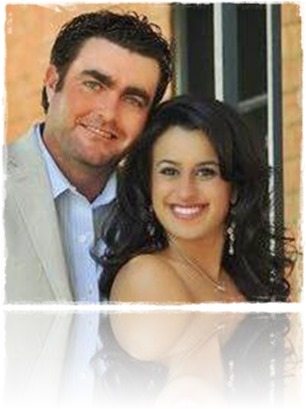 Amanda Yarussi also known as Amanda Bowditch is the beautiful and amazing wife of Steven Bowditch the Australian golfer, who has been a big supporter in the awareness of depression after he was a sufferer himself.
"I would start at 1 o'clock in the afternoon, go all the way until 5 o'clock in the morning and tee it up in the tournament at 7 o'clock," he revealed. "That went on for six weeks. That was my only escape from the person that I was."

"As a man, it is not considered 'tough' to admit you have a mental problem. But as soon as you sit down and talk about it with someone, it is a great weight off your shoulders," he continued.

"I want people to know that depression is common and the sooner you get the right treatment the sooner you're on the road to recovery," he added. "You shouldn't be ashamed or embarrassed to ask for help. It can happen to anyone. If you think you may be depressed, even if you're not sure, talk to a doctor."
Those were the words 30-year-old Steven Bowditch told to the PGA about his battle with depression and alcoholism, during his darkest days, Bowditch didn't sleep for 12 days, drank a bottle of whiskey, put on his heaviest clothes and threw himself in his pool at his Texas home, luckily his suicide attempt was intercepted by his then girlfriend who pulled him out of the pool, resuscitate him and took him to the closest hospital.
Steven has been spokesperson for BeyondBlue for years, but he gives credit to his wellbeing to the love of his beautiful Amanda.
"I found a wonderful woman in my wife Amanda … I guess I have found a little bit of a calmness about me, and just getting older (has helped too)," he said.

"It's that simple, you know. I was a child for a long time, and still am a kid. I'm going to make mistakes but, you know, just try and make less of them now."
Steven Bowditch dated Amanda Yarussi for four years before their September 10, 2011 wedding at the Four Seasons Las Colinas.
33-year-old Amanda Bowditch was born Amanda Suzanne Yarussi to Michael Francis Yarussi, and his wife Joyce Anne Yarussi, 61, from Flower Mound, Texas, also the proud parents of Amanda's brother Michael.
Pittsburgh born Mr. Yarussi  a geologist from  the Indiana University spend 35 glorious year married to his beloved Joyce (nee. Ross) he passed away on October 31, 2010 at the age of 58.
Amanda Bowditch is a producer at Fox Sports, before that she was a reporter for the Dallas Cowboys Broadcasting, in 2010 she won a Lone Star Award during the 8th Annual Lone Star EMMY Award. She graduated in 2-004 from the University of North Carolina at Chapel Hill.
Follow Steven Bowditch's wife Amanda on Twitter here.