Birgit Wetzinger
Meet Birgit Wetzinger; the beautiful wife of German Formula One legend Niki Lauda, who sadly passed away at the age of 70, on May 20, 2019.
Back in 2013, Formula 1 champion Niki Lauda and his transplant hero wife 21 years his junior, Birgit Wetzinger celebrate a new conquest for F1 legend: the film Rush.
Niki Lauda got married to the woman who saved his life in a wedding that lasted just four minutes.
He married former stewardess Birgit Wetzinger after a four-year romance. Three years before, Birgit donated one of her kidneys to Niki after a previous transplant failed.
But he said:
I love Birgit. To me, she is the perfect woman. I want to spend the rest of my life with her.

Our relationship is doing perfectly well and I now did what every gentleman has to do.
He added:
I want to protect my private life and not carry it out in detail as Boris Becker does.
After his life-saving operation Lauda said:
She is a hero.  To show affection to someone is one thing, but to donate an organ is something else entirely.

It wasn't easy to take responsibility for Birgit's risk.  For me it was more difficult than the operation.
Lauda said the couple did not go on a honeymoon and has no plans to do so. Then after that Birgit gave birth to twins.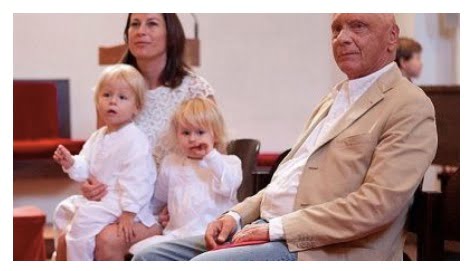 Twins Max and Mia, weighing in at almost 8lb each, were born to wife Birgit in their native Austria. Brother, sister, and mother are all said to be doing well.
Birgit born on March 4, 1979, in Vienna, Austria; was a stewardess on his budget airline Flyniki when she fell in love with Lauda back in 2005.  That same year she proved her devotion to him by donating him one of her kidneys.
Lauda said at the time:
She is everything to me because without her I would not even be alive.
Well, at last, there is a happy ending for Birgit and Niki.
Prior to Birgit, Niki was married to Marlene Knaus, mom of his eldest children.