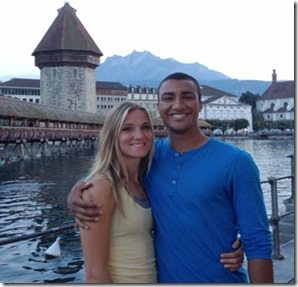 Straight from the lands of Canada; 24-year-old track and field athlete Brianne Theisen hails from the lands of Humboldt, Saskatchewan, she was born December 18, 1988. I bet you've seen her compete; this gal has an incredibly successful collegiate career.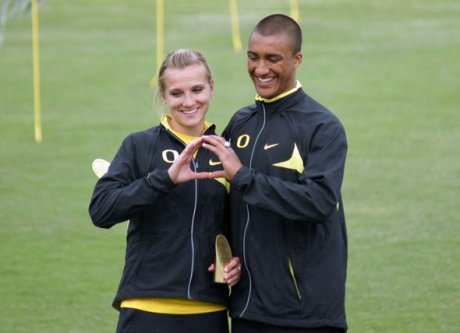 But we also want to talk about her more personal life, including boyfriend/fiancee another great athlete, Ashton Eaton. Theisen has nothing to envy her gold medalist and world record athlete boyfriend; a heptathlon athlete herself, she represented her country at the 2009 world championships in Athletics and holds the Canadian record for the indoor pentathlon with a score of 4555 points.
The pair's love story began while attending the university of Oregon; their nationality might have been different but their love and passion for the sport is what brings them together. The duo met while he was a freshman and Theisen, a year younger than Eaton, was visiting when the track and field team that hosted potential recruits to the campus; when suddenly at a party she found herself chatting with him.
Brianne who is a Humboldt Collegiate Institute graduate bumped once again with Eaton while they both attended the Pan American Junior Athletics Championship in 2007; they both caught up with each other and Brianne was suddenly also attending Oregon!
After some serious hanging out the pair shared their first official date on Valentines day 2008 and they have been pretty much inseparable ever since.
Theisen and Eaton share similar athletic interests, as Theisenis the Pac-12 record holder in the Heptathlon. The dynamic duo has been together through all of their ups and downs luckily for them the downs have been few; we all remember that moving picture when an emotional Eaton became the new world record holder in the men's decathlon during day two of the 2012 U.S Olympic track and field trials and he celebrated along with girlfriend and mother.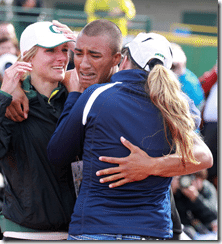 So getting engaged and eventually taking the marriage decision it was just a natural course of events. The couple set the exciting date for July 13; Brianne's last competition before getting hitched was at Moncton in the Canadian World Trials where she dominated several events. The track and field super stars have been training partners and now they will become life partners and each other's biggest supporters for life.
This couple is truly the result of hard work, besides their several victories they both also have in their pocket the 2012 London Olympics dream. Their story is truly out of a fairy tale, getting to know each other in their beloved Eugene, traveling and supporting each other at their events, taking care of their diets, having fun and enjoying their company at favorite spots in Oregon.
According to Eaton his soon to be wife is also a great cook; he finally proposed to her after he got permission from her parents, a real classy guy for a real classy gal.
Congrats to both!!
You can follow the soon to be Mrs. Eaton here.