Chloe Mendel 
Meet Chloe Mendel; she is the longtime girlfriend and baby mama of Billy Morgan; the former lead singer of Smashing Pumpkins and new owner of the National Wrestling Alliance, (NWA).
No doubt you all know plenty about Billy Corgan; from his early years performing in Chicago, to Smashing Pumpkins, Zwan, his solo career, reuniting with Smashing Pumpkins and eventually his wrestling ambitions.
It was back in 2011 when Corgan first got into the world of wrestling; when he founded Resistance Pro Wrestling in Chicago; subsequently, in 2015, Corgan joined Impact Wrestling, formerly known as Total Nonstop Action Wrestling. He became its president the following year. However, he left TNT a few months later that same year.
With that noted, ready to hear about his personal life and his new girlfriend Chloe Mendel?
The first thing you need to know it that, he firstly married longtime on-off girlfriend, Chris Fabian in 1993. His marriage with Fabian an artist and art conservator ended in 1997, two years after their split, in 1995 which is the same year he started dating Yelena Yemnchuk a photographer who collaborated with his band; they split up in 2004.
That same year he began dating singer-songwriter, poet, violinist, and actress Emilie Autumn, like Yelena, Emilie collaborated with Smashing Pumpkins and appeared in singer Courtney Love's backing band on her 2004 America's Sweetheart tour and returned to Europe.
Speaking of Courtney Love, she and Corgan dated after his relationship with Autumn ended in 2006. Like water and oil, these two just didn't mix their relationship ended pretty bad in 2008.
Corgan was briefly linked to singer Jessica Simpson before he moved on to another Jessica. Corgan and singer Jessica Origliasso from the duo The Veronicas started dating in 2010; they split up two years. Jessica, as you all know changed teams, and is now dating Aussie actress, model, and DJ Ruby Rose; Corgan seemed to have settled down with our girl Chloe.
Chloe & Augustus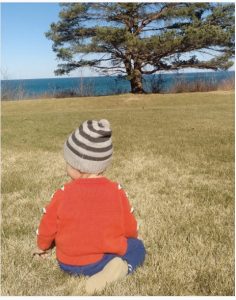 24-year-old New York Native Chloe Mendel is one of the children born to fashion designer Gilles Mendel and Jenny Mui, also proud parents of Chloe's younger brother Sasha Mendel.
Mendel who is an artist gave birth to their first son Augustus Jupiter Corgan on November 16, 2015. At the time of the news, it was reported Chloe and Billy reside in Chicago, where they worked at their tea shop, Madame Zuzu's.