Cristiane dos Anjos
Meet lovely Cristiane dos Anjos, the wife of 29-year-old Brazilian fighter Rafael dos Anjos. Her husband, who trains out of Evolve MMA, holds a record of  11 losses, 29 wins,  5 of those wins he won by KO.
Cristiane's husband comes off a big knockout win over Jason High in June. He will step inside the Octagon for the third time in four months when he faces Ben Henderson at the main event of the UFC Fight Night card in Tulsa.
Cristiane and the 5 ft 9 in, 155 lb, Brazilian Jiu-jitsu black belt fighter met seven years ago and soon became inseparable until they made it to the altar.
Everyone remembers when her hubby fought for about ten minutes with his jaw cracked in two places for years ago; he was finally forced to submit when Guida (Clay) rammed a shoulder into his face from half-guard.
Cristiane did all the talking to address the media, she said:
"He broke his jaw in two places in the first minute of the first round… We're still in the United States, he's being operated on here. If everything goes well, I think we'll go back to Brazil on Saturday."
Luckily for the former jiu-jitsu instructor, his pretty wife was there to nurse him back to health.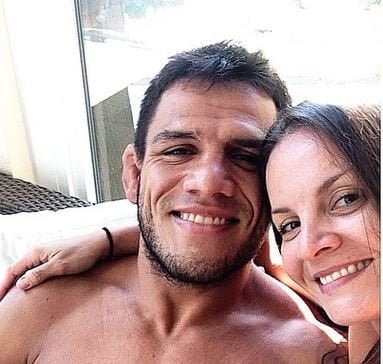 The lightweight fighter made his UFC debut in 2008. Her hubby earned Submission of the Night honors after defeating Terry Etim at UFC 112 on April 10, 2010. He lost his first fight by split decision on September 25, 2004.
The first fight is ready 155lb! I know how you've been suffering to make this real! So proud of you my love!! Your discipline always inspire us! Let's go Dos Anjos it's your time! This is your chance! I believe
The couple is parents of three beautiful and amazing sons. Gustavo who is 15-years-old is his stepson so is believed to be Cristiane's boy from a previous relationship. Younger Rafael who is the couple's first child together was born two weeks after his fight at UFC 91 on November 15, 2008. Gustavo is said to be following dos Anjos footsteps in and joins him during training.
Cristiane and Rafael welcomed their son Roginhdo Roger born on September 21, 2018.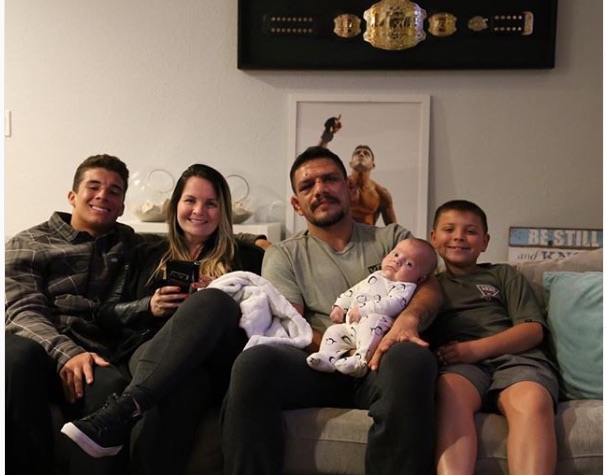 Not much is known about Cristiane and her younger years –she seems a dedicated wife and mother, but while the couple hadn't even met; her hubby reveals on his ufc profile he wanted to be a fighter since he was a teen after watching classes and videos.
And the effort has paid off; his titles include Brazilian jiu-jitsu champion, Fury FC champion, BJJ black belt. Out of his 21-wins, eight were by submission, three by knockout and ten by decision.
Find the mom of two on Twitter here.