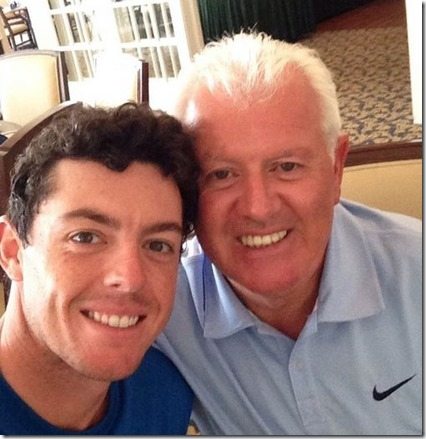 Meet Gerry McIlroy, his last name might sound familiar and that's because he is the proud father of 25-yea-old Irish pro golfer, Rory McIlroy!
According to recent reports Gerry took advantage of his son's talent and put his faith on him after winning a bet! Gerry scored big when his son won the British Open on Sunday at Royal Liverpool. According to the betting firm Ladbrokes, McIlroy's father holds a winning ticket for $171,000 on 500-to-1 bet placed in 2004 for his son to win the Open within 10 years.
What's even more shocking is that McIlroy senior placed the bet but obviously his son wasn't just some lucky player. Young McIlroy was a budding prodigy who won the 2004 Junior Ryder Cup with the European team. The next year he became the youngest winner of two prestigious amateur tournaments in Ireland, which explains why the 500-to-1 bet his dad made was down to a 250-to-1 odds for his dad's friends the next year.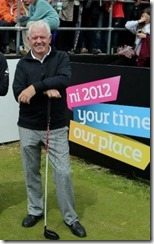 Mr. McIlroy understood exactly what he was doing as he understands the game being a fine golfer himself. He introduced his only son to the game at an early and used to coach him. This is greatly recognized by Rory who pays his parents a little tribute on his website saying,
My Mum and Dad gave up a lot so I could play this game, and I can never thank them enough. Spending time with my family be it at home or when they come out to support me at tournaments, is very important to me.
On father's day Rory posted a photo to his Instagram of him and his dad, with the following caption
Happy Father's Day to all the Dads out there! This guy has been there for me since day 1!
Another adorable father-son image is captioned
My Dad inspired me to pick up a golf club! My First Idol!
Gerry married Rosie –née  McDonald –McIlroy and they lived in Holywood in County Down with their son. Gerry once played at a scratch handicap level.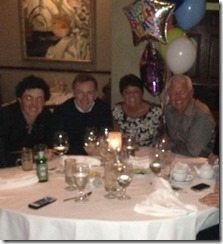 Gerry and his wife both held down several jobs to earn additional income for his son's golf development. His mother worked extra shifts at the local3M plant after recognizing their son's early evidence of his golf potential.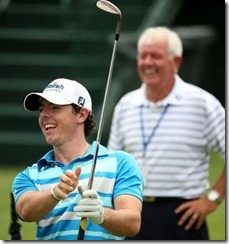 His son, Rory, has been making headlines; first when the young golf star ended his engagement to Danish Caroline Wozniacki. They were together for about three years and got engaged in December but the short engagement ended earlier this year. Gerry's son who seems to be in a new relationship is enjoying his well deserved British Open win and is also happy for his father's win, he said
He's never reminded me. I knew that he'd done it. I'm not sure if it will pay out. If it does, it's a nice little bonus."
Find Gerry' son on Twitter here.