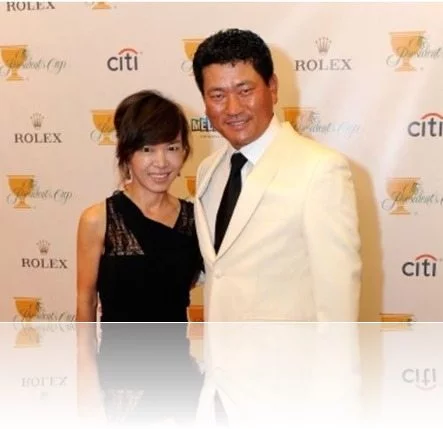 Korean PGA golfer K.J Choi, has 20 wins on his record, but his biggest triumph is having the love of his beautiful wife Hyunjung Kim aka Kim Choi, the mother of his three gorgeous children.
43-year-old J.K Choi born Choi Kyung- Ju was born on May 19, 1970 in Wando, South Korea, he graduated from Gwangju University in 1994 at the age of 24 Choi turned pro. almost ten years after that he became the first  Korean to  earn a  PGA Tour card.
in 1996 he won the Korean Open, and the Kolon Korean Open, in 2002 won the Tampa Bay Classic and the Compaq Classic of New Orleans, in 2003  earned his first and only European win at the Linde German Masters and the SK Telecom Open, which he won again in 2005
Also in  2005 he won the Chrysler Classic of Greensboro and the Chrysler Championship in 2006, in 2007 he won the AT&T National and the Memorial Tournament.  Choi won the Sony Open in Hawaii in 2008 and the Iskandar Johor Open in 2009. His last win came in 2011 when he won the The Players Championship and the CJ Invitational of the Asian Tour which he won again in 2012.
K.J Choi and his pretty wife Hyunjung Kim or Kim Choi, together they are the proud parents of their son David born on May 9, 1997, Amanda born on March 2, 2002 and Daniel born on December 26, 2003. Hyunjung and K.J left their beloved Korea years ago, now they live  in the same neighborhood of fellow Korean golfer Yan-Yong-eun in Southlake, Texas.
Hyun-jung Kim in highly involve in her husband's charity the K.J Choi  Foundation, as devout Christians they are members of the Korean Methodist Church.