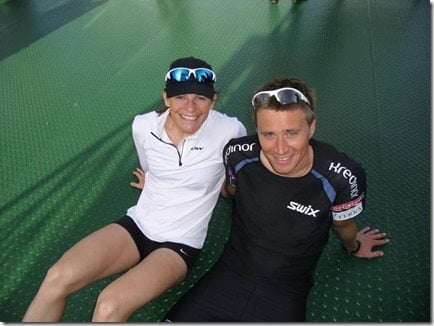 30-year-old Katja Visnar is not only the lovely girlfriend of gold medalist –cross country skier, Ola Vigen Hattestad but she is also his fellow athlete.
Katja is also a very successful cross-country skier from Bled, Slovenia. She was born 21 March 1984 and began cross-country skiing at age 11 when her parents –Miha and Barbara enrolled her at a local ski club; she has been competing since 2001. She has one brother, named Anze.
I started training cross country skiing at 11 years of age. My parents enroled me in the local cross country skiing club Bled, where I was inspired to train by my first coach Vinko Poklukar. What motivated me the most was nature, where I was able to train and compete. My playfield is Pokljuka, where I can train in summer and winter.
At the 2010 Winter Olympics in Vancouver, she finished 11th in the team sprint and her best finish at the FIS Nordic World Ski Championships was 4th in the individual sprint event at Val di Fiemme in 2013.
She and boyfriend, Ola Vigen have been dating for a few years.
According to her profile, her hobbies include Climbing, alpine skiing, wakeboarding, travelling. She studied Marketing at DOBA Faculty of Applied Business and Social Studies, Maribor, SLO. She speaks English and Slovene.
She belongs to the TSK Bled., club in Slovenia and her occupations are both Athlete and Customs Officer.
Her career highlights include: first FIS race  – Planica, SLO; March 2001 – European winter Olympics (EYOD) – Voukatti, FIN; March 2001 – member of Youth national team; 2002 – Youth World Championships – Solleftea, SWE; February 2003 – first race in the World cup: 27th place – Düsseldorf, GER; 28.10.2006.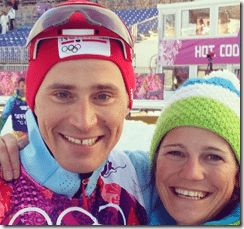 She and boyfriend Ola Vigen Hattestad of Norway are one joyous couple since her man just won the Olympic gold medal Tuesday in the men's cross-country sprint. The long-time couple seem very much in love, maybe they'll get in the spirit and get hitched soon! What do you think??
You can find Katja on Facebook here, twitter here and instagram here.