Martin Rubio
U.S snowboarder Jamie Anderson has won a gold medal for the U.S.A Olympic team at the 2014 Sochi Winter Olympics, this pretty athlete however is not single, her boyfriend and most loyal fan Martin Rubio has been by her side step by step.
23-year-old Jamie Anderson from South Lake Tahoe, California has won her first Olympic gold medal in Sochi, Russia, she already holds 4 gold medals from the X Games  in 2007, 2008, 2012 and 2013.
Lately Jamie has been experimenting  with film making, and who is a better partner for that new adventure than her own filmmaker boyfriend Mr. Martin Rubio.
Martin Rubio was born in Nevada, he graduated in 2006 from Douglas High School in Minden, Nevada.
In 2008 Martin Rubio, 27, his brothers Luis and Salvador "Sal" founded Tall Trez Designs in Lake Tahoe, CA, the apparel line, this line has been specially made to protect and preserve the planet, a year later Rubio funded Visuals Media, where he is also producer, editor and cinematographer. Painted Visuals is a diverse, multi-media production company specializing in actions sports & adventure.
Martin graduated in 2008 with an Associate Of Arts and General studies from Feather River Community College District, he also attended Lake Tahoe Community College.
Over three and a half years ago Rubio was a cinematographer and editor with Billabong, around that time and until last April he also worked with his pretty Snowboarder gal.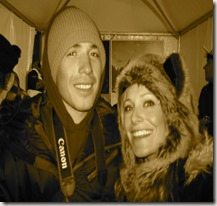 Some of Martin Rubio's family member live in Gardnerville, NV, while others still reside in Jalisco, Mexico. Besides his brother Sal and Luis, Martin has also one sister, Pau, which is short for Paulina.
UPDATE: Jamie Anderson's New Boyfriend Tyler Nicholson