Paige VanZant
Actress, model, athlete, dancer, Paige VanZant is a whole lot of things tighten into one small package! The blonde hails from Sacramento, CA; and she might be a Christian but when it comes to kicking your she has no mercy!
The UFC Strawweight fighter has become a sensation after she made her promotional debut at UFC Fight Night 57 against Kailin Curran on Saturday!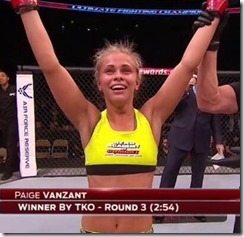 The 20-year-old not only was shining like a star on her UFC debut but won Fight of the Night honors and a $50,000 price to go along!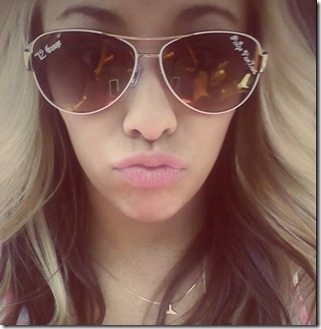 Her most notable wins include Courtney Himes and Amber Stautzenberger. Paige has received several awards: Blood Happens submission of the night, pro win over Jordan Gaza in Corpus Christi TX ( fight of the night ), pro win over Amber Stratzenburger and pro win over Courtney Himes.
VanZant's record so far is 4-1. Her only loss is to TUF 20 contestant Tecia Torres by unanimous decision in January 2013 at Invicta FC 4.
The blonde loves to be outdoors! She is a big fan of bikes and water sports!
But whenever she not kicking or soaking under the sun, she can be found hanging out with her beau! Sorry fellas!
She is currently in a relationship with Sinjen Smith, who is also a professional MMA fighter signed with Bellator.
Paige currently resides in Reno, Nevada. You can check out her Twitter here and find her on Instagram here.