Meet 35-year-old Aaron Zalewski the husband of UFC Octagon Girl, Artist, Host and Model Brittney Palmer. The marriage of one-year are seem to be having some major trouble in paradise!
Recent reports revealed husband Aaron allegedly tried to kill his gorgeous wife; TMZ says the couple got into a heated fight earlier in June that ended up with Aaron being arrested for attempted murder, spousal battery, and criminal threats.
Aaron went ballistic, the report say, when he heard someone calling his wife 'babe' over the phone, it quickly got physical and he allegedly threw the 120 lbs Palmer and she hit her head on a bedpost. She also told cops, Aaron wouldn't let her leave. throwing her down a second time and pinning her face on a mattress, with his knee in her back. She says she struggled to breathe for 2 minutes while he held her down.
She finally called cops at 1:25 Am and cops arrived.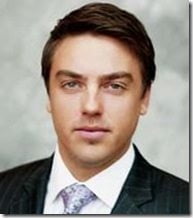 Zalewski, is a native of Australia, worked as an analyst in the investment banking industry before becoming a director at Compound Stock Earnings.
He used to host a weekly financial radio show on NewsRadio 1080 called Unconventional Wisdom. the show last aired on January 16, 2015.
Aaron and Brittney tied the knot on May 10, 2014, according to Inside Weddings, the couple had a romantic oceanfront wedding in Pacific Palisades, California.
The article reveals, they met four-years prior to their wedding at a trendy Hollywood club, they both had arrived separately but Aaron was marveled after laying ayes on Brittney who was at the next table. That night he managed to record his number on her phone even thought she was with another guy. Aaron popped the question during a trip to his native country.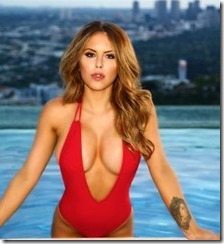 Britnney has been in the entertaining industry for close to a decade, the stunning brunette shows interest and talent for a number of art forms including painting, music, dancing, and jiu jitsu.
She began modeling at an early age and by 18, she was a professional model. Palmer grew up in Las Vegas which gave her the perfect scenarios to polish herself, first appearing in Ultimate Variety Show, followed by a featured act in Jubilee, then as a magician's assistant to Nathan Burton, culminating as the lead dancer in X Burlesque at The Flamingo Hotel and Casino.
The 28-year-old might be best known for her gig as an Ultimate Fighting Championship Octagon Girl, which means she is cage-side, preparing to balance the beasts with her beauty as she readies everyone for the next round of action.
Brittney is also a self taught painter, according to her page her creations have been a big hit from both critics and collectors.
Aaron –who was released on a 1-million bail, is waiting the L.A. City Attorney decision whether to charge him or not.
Find Palmer on Twitter here.