Kasi Bennett
Kasi Bennett is a gorgeous Jamaican fashionista and the girlfriend of the world's fastest man, Usain Bolt.
It appears the prayers of Usain's mother, are likely to be heard real soon! According to recent reports, Usain and his gorgeous Jamaican girlfriend will likely get engaged pretty soon
Thought it might sound shocking, Kasi Bennett and Bolt have been dating for over four years according to media sites.
Now, we know you are dying to know just who Kasi Bennett is?! So without further ado, let's get to know her better.
Though her existence might be new to us, Kasi Bennett and her Olympic legend fella have been in a long and steady relationship for years. The news of the imminent engagement comes after Bolt's sister revealed her brother's and Kasi's relationship following his 30th birthday bash.
Over the weekend Bolt celebrated his birthday while still in Rio and photos of him an another woman have surfaced.
Also on Sunday, Kasi Bennett tweeted "I wish there was no discovery, but thank you so much." That's really sweet of you." As a response to someone saying how hot, Bolt's girlfriend is.
Kasi Bennett
The 26-year-old brunette beauty hails from the Jamaican town of Old Harbour. She has been super supportive of the Jamaican sprinter and nine-time Olympic gold medalist during his performance in Rio.
She definitely keeps active on social media. Whether posting about her outfits she isn't shy about showing or telling the world just how much she cares for her beau with a number of supportive posts.
Kasi Bennett hasn't been completely in the shadows. During an interview he explained that he doesn't hide his relationship but he also, doesn't try to put it in the media.
"Because I personally know what's going to happen." It seems like Bolt is protective of Kasi saying:

"I have explained to her that when it comes out, it's not going to be as she thinks it's going to be,"

"A lot of people will try to attack her, so I tell her to just take it easy and let's make sure that you're ready for this."
While Kasi Bennett refers to him as "my boss" and "my baby" Bolt posted a snap of the couple, calling her "First Lady."
The Jamaican sprinter also said he was attracted to Kasi because of her booty. Kasi definitely has a curvaceous body and a pretty smile to go along. Do you see them getting married soon?
Kasi and Usain welcomed their daughter Olympia Lightning Bolt in 2020.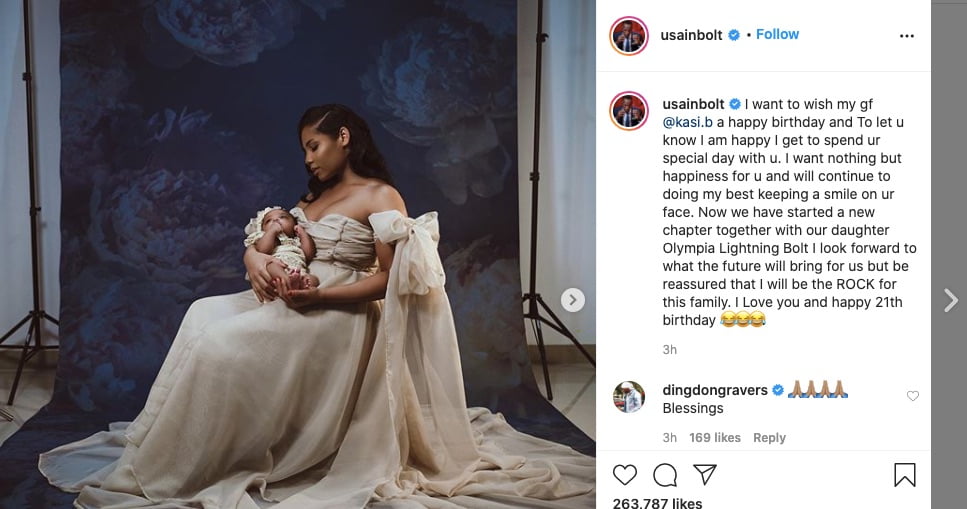 You can check out Kasi Bennett on Twitter here, Instagram here.