Jessamyn Duke
Jessamyn Duke is a 30-year-old Bantamweight MMA fighter currently competing for Invicta Fighting Championship. The Kentucky native who formerly competed in the UFC is one of several women fighters to have allegedly been hacked!
Jessamyn Laurel Duke, also known as The Gun, was born June 24, 1986. The 5 ft 11 in fighter began her training out of love for the sport when she was 19. She decided to pursuit it full-time as a career after she realized that there were opportunities for women to compete.
She had her first taste at an amateur MMA fight after four years of training. Jessamyn attended EKU and graduated with a degree in Fitness and Wellness Management.
She has served as Associate Instructor in the Thaiboxing Association of the USA and KY State Director.
She also holds a Purple Belt in 10th Planet Jiu-Jitsu.
Anyone who knows Duke knows she's passionate about fighting. She has stated in previous interviews that fighting is her 'life.' But prior to becoming World Muay Thai Association (WMA) Welterweight Champion, Tuff-N-Uff Featherweight Champion, and AAMMA Featherweight Champion; she used to work in a number of part time jobs including: gas station attendant, waiting tables, managed a liquor store and UPS loader.
Duke, also a fitness model and stuntwoman grew up in the mountains of Eastern Ky.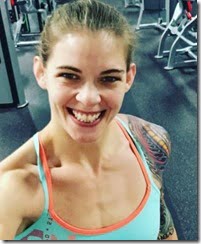 She is definitely one of the most popular fighters out there, with over 70K followers on social media.
Duke is said to be one of the latest victims to have naked photos of her online. Over the last day, photos not meant for the world to see have been leaked online. According to The Sun, Duke is the worst affected of the latest hackings with dozens of images released.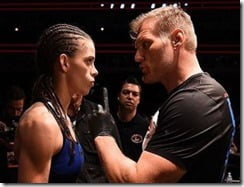 It is not clear if Duke is currently in a relationship at the moment but we're pretty sure she and her beau –if there is one –will not be happy about the leak.
Jessamyn Duke currently resides in California with her pit-bull, Isis.
You can find her on Instagram here.