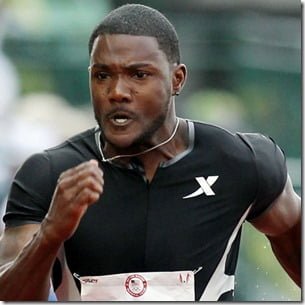 Justin Gatlin now the 31 year old seasoned athlete who's experience of life has expanded from the sweet taste of 2004 Olympic champion to the bitterness of his career being shut down during four long years.  Born February 10, 1982 in Brooklyn, NY Upon his arrival to the University of Tennessee, Knoxville; he was quickly spotted by coaches realizing his potential as a good high school 110m hurdler.
After years of dedication and hard work he won the gold medal in the 2004 Summer Olympics but the sprinter's name was stained when in 2006 Gatlin's career hit a roadblock as he tested positive for "testosterone"  causing him to be banned for four years from international competition. Gatlin was quick to defend himself, but still lost all his appeals.
An active Justin did not hide for a second and instead kept busy trying out for various NFL teams as a kick returner and wide receiver, while also becoming a regular on the Spike TV show, Pro's vs Joe's. During his four years sentence he also worked on his personal life becoming a father for the first time. His son Jace Alexander Gatlin, born in May 2010 gave him a better understanding of what is life about:
"Good, bad, indifferent, guilty or not, I have served my time," "I just want to come back and be able to run. To be able to compete like anybody else."
And that came true when he made his comeback back in August 2010 where he won 100 m in Rakvere, recording 10.24 seconds. But what else is known about his love life?? Is he and his baby's momma together?? Apparently not. He and the mother of little Jace were never an item. He was linked for a while to an Asian chic named Aysia Lothi but that relationship didn't last.
Now that Justin Gatlin beat Usain Bolt at the Golden Gala meet on Thursday by one-hundredth of a second and is back on the Track and Field glory we wonder who is the lady in his heart?? Who's keeping him so focused these days??
He has several pictures with different girls but so far no one who claims to be the official Mrs. or girlfriend??
You can follow the star on twitter here but I won't assure you'll catch him…get it??