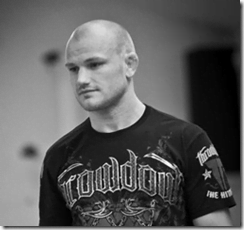 For those of you Martin Kampmann's fans who know the fighter is married and is actually a family man also know the Aarhus, Denmark Welterweight fighter often mentions his wife on twitter and is no stranger on talking about how she is in charge of his diet, and well ultimately she is the woman, mother of his two adorable little boys but! We wonder who is that lucky lady he is always talking about!
For now, we will call her "the wife". She and Martin who began taking Karate classes at age 14 after he saw the movie Bloodsport turned pro in 2003 and has since held notable victories through his Brazilian Jiu-Jitsu/
Muay Thai styles live in Vegas with their two cuties! In 2011 his wife gave birth to a son, Xander.
The couple was officially married in Las Vegas but they also had a formal wedding ceremony in Denmark where family and friends saw them get hitched all over again.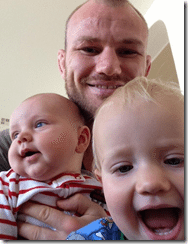 The wife is the author of most dishes Martin eats like the one in the picture below, he twitted the image captioned "Wifey made some good looking lunch!" We know the diet of a MMA fighter is something very important and he says:
I'm very fortunate to have a wife that cooks. She makes me lasagna, salmon, stuff like that. Maybe some brown rice or quinoa, baked yams, onions, beets or a salad on the side
He continues:
I like to eat organic. The more organic, the better. My wife does the grocery shopping and she tries to buy organic, but we're also price conscious so she won't buy organic if something is ridiculously expensive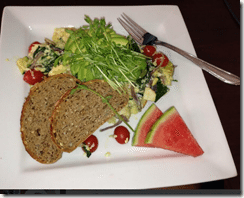 The 31-year-old tough "Hitman" is definitely linked and influenced by the wife, when asked "For someone visiting Denmark for the first time, where should they go" he replied:
"My wife says they should go to the country"
Last year Kampmann spent a three-week Australian vacation with his wife and 8-month-old son after an important UFC on FX 2 main event victory over Thiago Alves in Sydney. The couple along with their boys are also big fans of Hawaii as we can see in this picture, captioned "Aloha from Hawaii, I love this place"
A much different Kampmann when we see him in action right!
You can follow the former engineering student on twitter here.